Rhino Rescued After Eight Day Ordeal
---
[After eight tense days, a female one horned rhinoceros was found and rescued from an area in India that has recently seen four other rhinos killed by poachers.
Assam state is home to the world's largest concentration of the rhinos; when the rhino strayed from the Pobitora Wildlife Sanctuary an urgent search for it was undertaken. After leaving the sanctuary, the rhino was swept by floodwaters to a sand bar in the Brahmaputra River.
A 17-member team comprised of veterinarians, animal rescue experts and forest department officials tranquilized the rhino Sunday and began the arduous task of transporting it safely home] –
The Times of India
.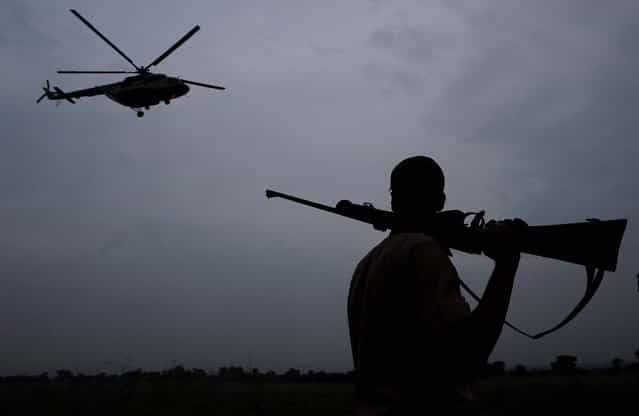 A forest official stands guard on October 1, as an Indian Air force helicopter flies to search for a rhinoceros that strayed from the Pobitora wildlife sanctuary in Rani Chapori, an island in the Brahmaputra River in Suwalkuchi in Assam state. Officials are urgently serching for the rhino: a least four rhinos have been killed recently by poachers, sparking outrage in the state, home to the world's largest concentration of the rhinos. (Photo by Anupam Nath/Associated Press)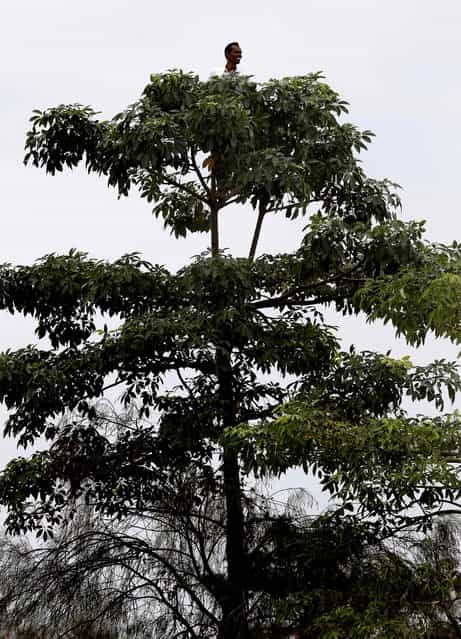 A villager looks from atop a tree as forest officials and villagers search for the rhinoceros on October 2, 2012. (Photo by Anupam Nath/Associated Press)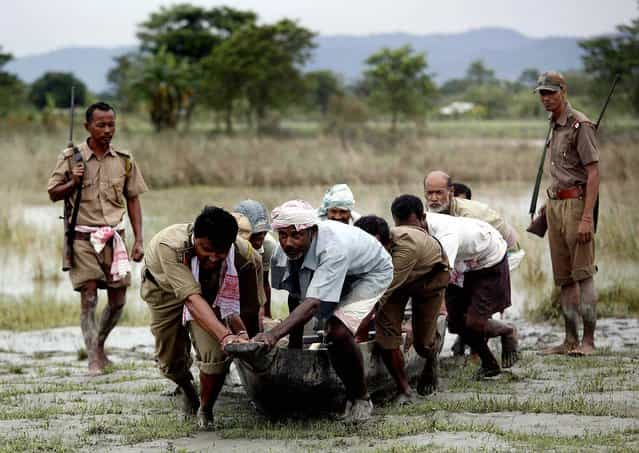 Forest officials and villagers pull a boat as they search for the rhinoceros on Tuesday. (Photo by Anupam Nath/Associated Press)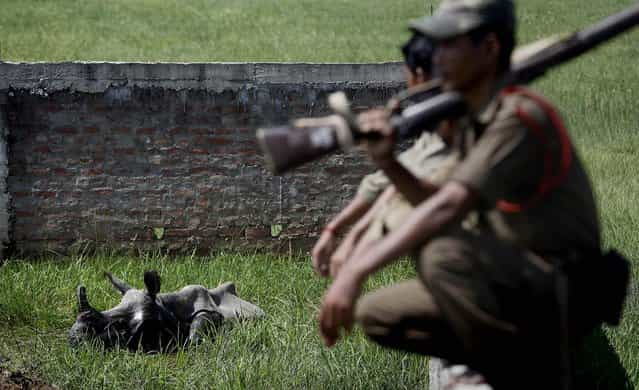 The rhino was finally located on Sunday in a field where it had taken shelter. Forest officials guarded the female one horned rhinoceros until it could be tranquilized and transported back to the Pobitora Wildlife Sanctuary. (Photo by Anupam Nath/Associated Press)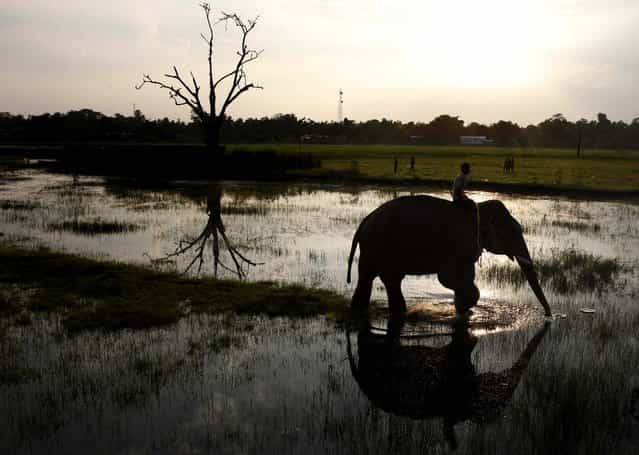 Elephants are brought in Sunday to assist forest officials push the rhino onto a sledge and transport it. (Photo by Anupam Nath/Associated Press)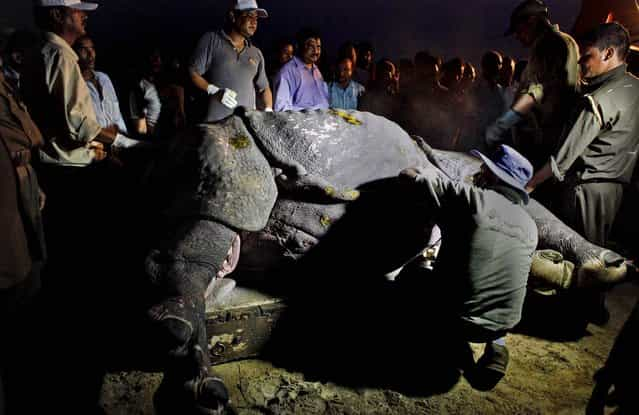 Forest officials and veterinarians examine the tranquilized rhino as they prepare to transport it on Sunday. (Photo by Anupam Nath/Associated Press)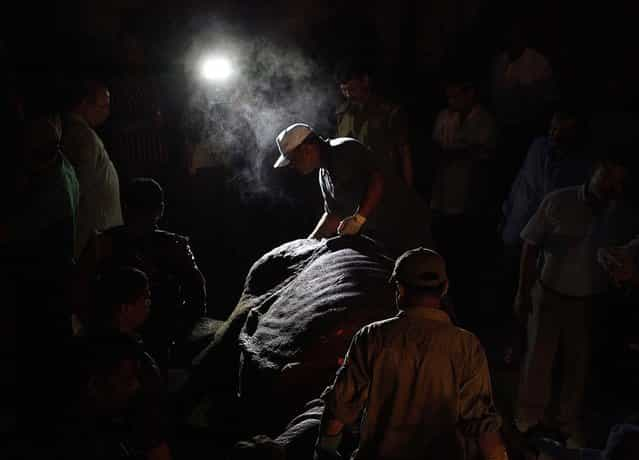 Indian forest officials and veterinarians examine a tranquilized female one horned rhinoceros as they prepare to transport it on a sledge in Uparhali village about 40 kilometers (25 miles) west of Gauhati, Assam state, India, Sunday, October 7, 2012. It is a long and very arduous job to transport the rhino which had strayed out from the Pobitora wildlife sanctuary last week. At least four rhinos were killed by poachers recently sparking outrage in the state, home to the world's largest concentration of the rhinos. (Photo by Anupam Nath/AP Photo)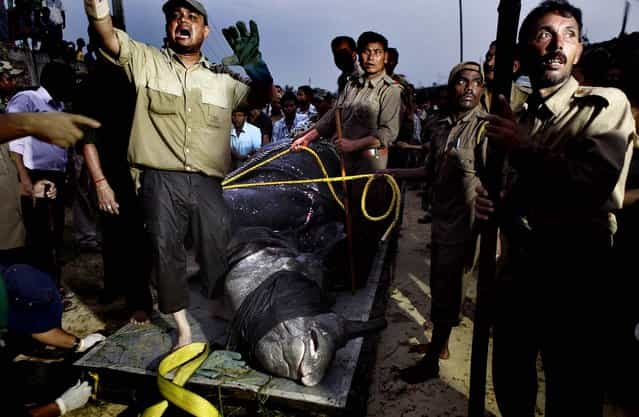 Rescuers work to begin the trip back to the sanctuary. (Photo by Anupam Nath/Associated Press)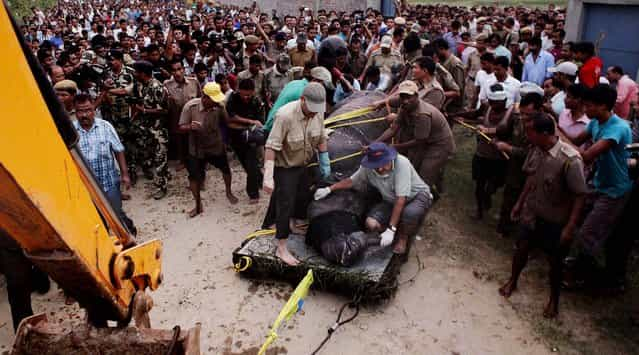 The journey back to the Pobitora Wildlife Sanctuary begins. (Photo by Anupam Nath/Associated Press)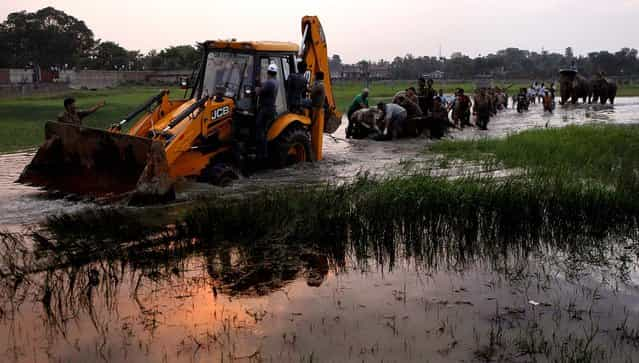 Forest officials transport the tranquilized rhinoceros through a water filled paddy field in Uparhali village. (Photo by Anupam Nath/Associated Press)