India Launches [Leave me Alone] Campaign to Save Indian Tigers
---
Activist groups and Indian wildlife officials kick-started a new campaign [Leave me Alone] to save the tigers. Despite efforts to conserve the national animal, numbers in India have dwindled due to rampant poaching reportedly for their valuable pelts and body parts that are highly prized in traditional Chinese medicine.

The campaign provides information to the public how the tiger plays a crucial role in protecting forests and the need for a clean and stable environment for the beasts. The campaign's name [Leave me alone] highlights the scientific reality that if left alone, tigers will thrive.

Bollywood actress Dia Mirza and Sahil Sangha, Director and Producer of Born Free Entertainment also supported the campaign. [The tiger represents all that is powerful and good about India. It is a metaphor for our entire natural heritage and it has the power to unite us behind the survival task of resurrecting the many natural ecosystems that have been unthinkingly damaged in the process of chasing economic ambitions. We urge each individual to join the [Leave me alone] campaign and make a difference], they said in the release.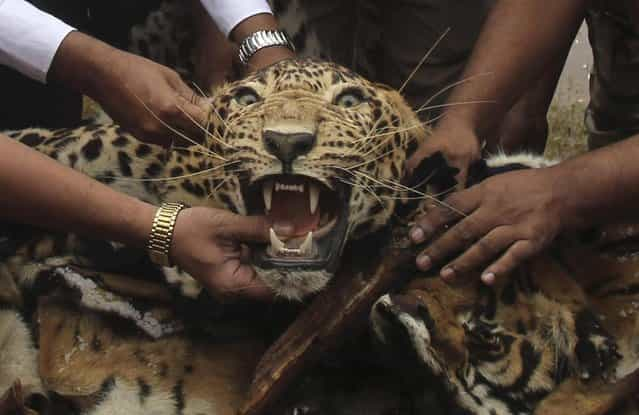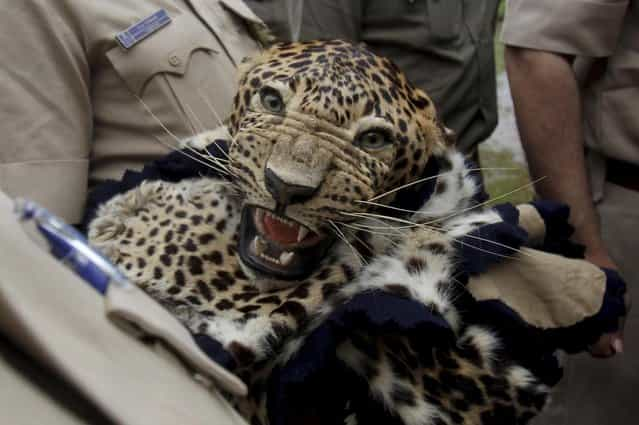 Indian wildlife officials hold a leopard skin prior to a burning of wildlife contraband including tiger and leopard skins, and bones as part of a campaign to save the tiger in Mumbai, India, Tuesday, July 30, 2013. Despite conservation efforts, tiger numbers in India have declined due to rampant poaching of the cats for their valuable pelts and body parts that are highly prized in traditional Chinese medicine. (Photo by Rafiq Maqbool/AP Photo)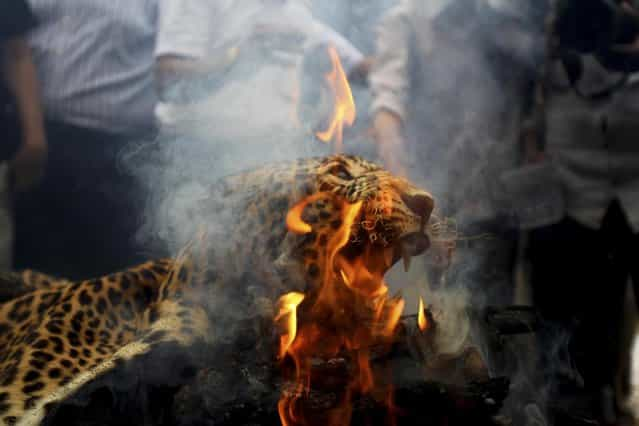 A leopard skin burns as Indian officials and activists burn wildlife contraband including tiger and leopard skins, and bones as part of a campaign to save the tiger in Mumbai, India, Tuesday, July 30, 2013. (Photo by Rafiq Maqbool/AP Photo)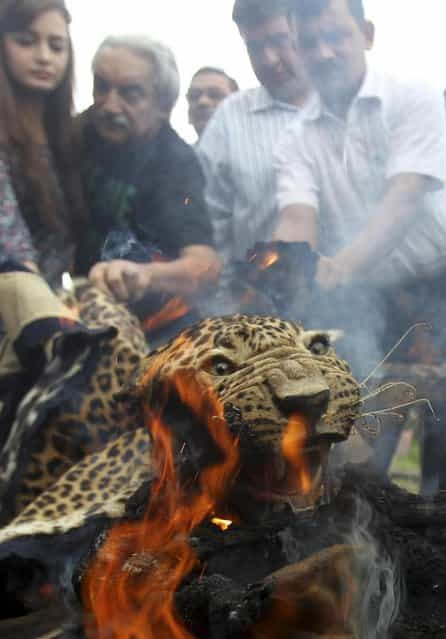 Indian Bollywood film actress Dia Mirza (L) looks on as forest officials and activists burn a leopard skin during an official burning of wildlife contraband, including tiger and leopard skins and bones, in Mumbai on July 30, 2013. The tiger Indias national animal is disappearing from the country because of rampant poaching and widespread habitat destruction. There are an estimated 1,800 wild tigers in India today, down from approximately 100,000 in 1900. (Photo by Rafiq Maqbool/AP Photo)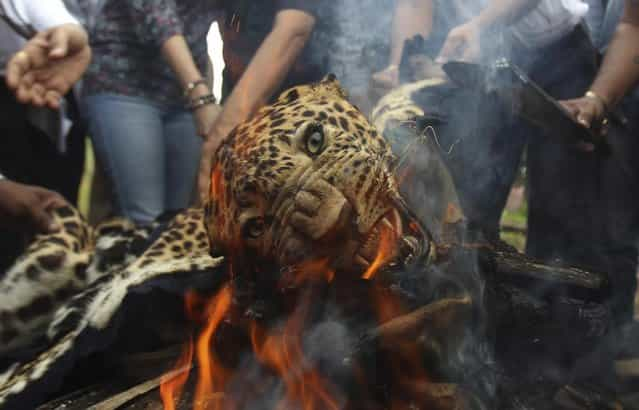 A leopard skin burns as Indian officials and activists burn wildlife contraband including tiger and leopard skins, and bones as part of a campaign to save the tiger in Mumbai, India, Tuesday, July 30, 2013. (Photo by Rafiq Maqbool/AP Photo)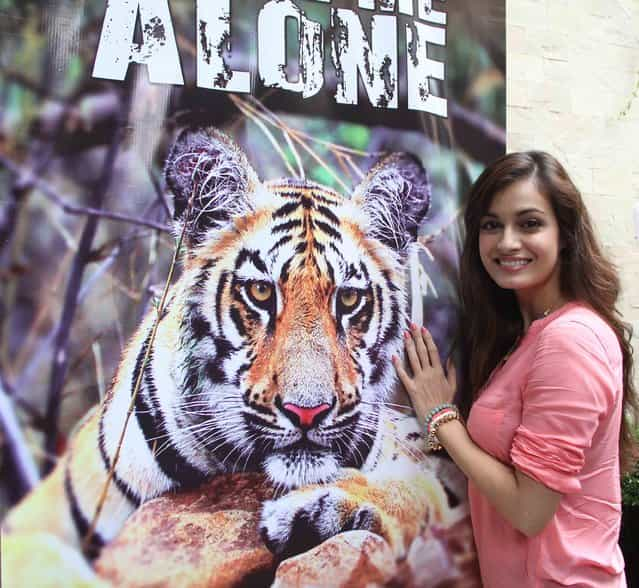 Bollywood actress, model and producer Dia Mirza at the launch of [Leave me alone] campaign, at the Mumbai Press Club on July 26, 2013. (Photo by Kemmannu News Network)