[Electrified: 1 Million Volts Always On] by David Blaine
---
[Magician David Blaine's latest stunt boasts lots of high-voltage snap, crackle and pop – but experts say he'll be safe from electrocution as long as he wears his chain-mail suit and metal headgear.
Blaine's stainless-steel chain-mail suit is a Faraday suit, an adaptation of the principle of the Faraday cage, in which an enclosure of highly conductive material shields whatever is within the enclosure from an electric field. It's a version of the protective suit that some linemen wear when working on high-voltage power lines, or that hobbyists make for themselves when playing with homemade Tesla coils.
[He has a conducting suit, all the current is going through the suit, nothing through his body], John Belcher, a physicist at the Massachusetts Institute of Technology, told Life's Little Mysteries . [There is no danger in this that I see. I would do it, and I am 69 years old and risk-averse. I just would have to take a nap].
Although the voltage sounds shockingly high, it's the strength of the current, measured in amps, that makes the electricity deadly. And the electric current produced by a typical Tesla coil is low.
Columbia University physicist William Allen Zajc applauded the magician for making physics seem exciting. He said the stunt was basically safe, though it could prove risky if the suit deteriorated from exposure to the elements.
Stuart Weiss, Blaine's doctor, said the main risks of the stunt include exposure to the ozone and nitrous oxides that are a byproduct of ionized air, which humans should not inhale in large quantities. A ventilation system will ensure that Blaine has breathable air, and a special visor in his helmet will protect his eyes from the ultraviolet radiation of the arcing electricity]. –
NBC News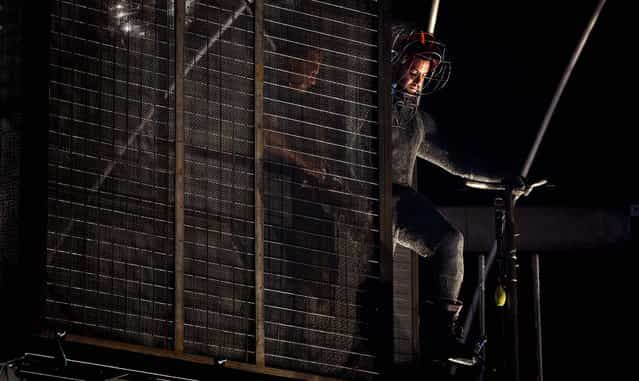 Magician David Blaine steps onto the main platform inside an electrified apparatus surrounded by Tesla coils before his 72-hour [Electrified: 1 Million Volts Always On] stunt on Pier 54 in New York City on October 5, 2012. (Photo by John Minchillo/Associated Press)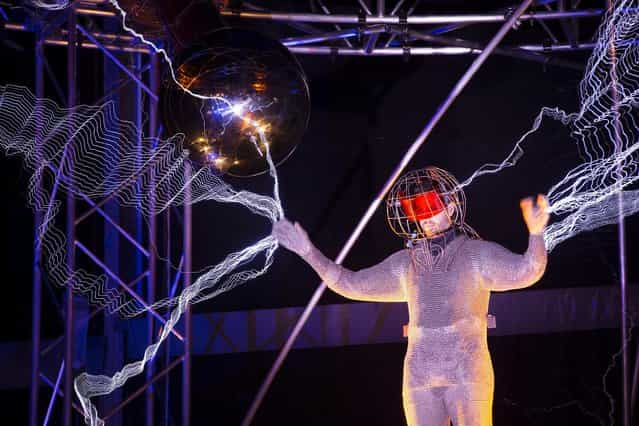 Daredevil stuntman David Blaine lit up New York's Pier 54 on Friday for his latest high voltage feat. The illusionist will spend the next three days and nights standing in the middle of a million volts of electric currents streamed by tesla coils. (Photo by Associated Press)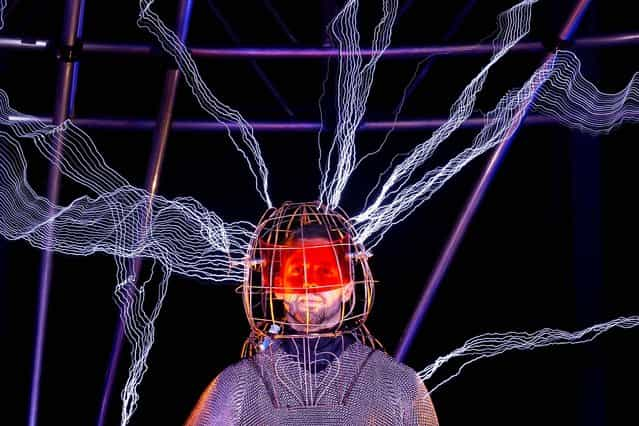 Blaine stands inside the apparatus, surrounded by a million volts of electric currents streamed by tesla coils. The stunt, sponsored by Intel, is the latest of daredevil endeavors by the magician whose previous stunts included being encased in ice for over 60 hours in Times Square, on October 5, 2012. (Photo by John Minchillo/Associated Press)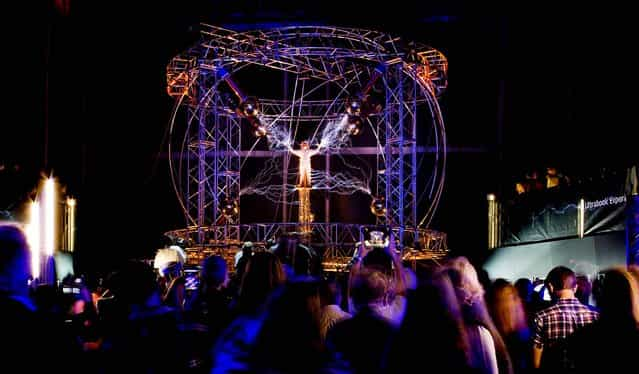 The illusionist will spend three days and nights standing in the middle of the million volts of electric currents streamed by tesla coils on October 5, 2012. The 39-year-old Blaine is wearing a chainmail bodysuit as a barrier between himself and the electric currents. (Photo by John Minchillo/Associated Press)