Faces of Addiction by Chris Arnade
---
The stories of addicts in the South Bronx. I post peoples stories as they tell them to me. I am not a journalist, I dont verify, just listen.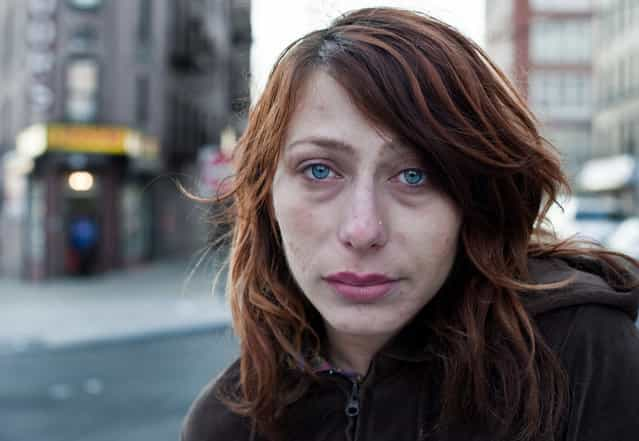 Vanessa: Hunts Point, Bronx
Vanessa, thirty-five, had three children with an abusive husband. She "lost her mind, started doing heroin," after losing the children, who were taken away and given to her mother. The drugs led to homelessness and prostitution. She grew up on Arthur Avenue in the Bronx, but now spends her time in Hunts Point, "trying to survive everyday. Just doing whatever it takes."

She was standing on the cold street corner looking for business, wearing only flip flops and smoking with her two friends. When I asked her how she wanted to be described, Mary Alice jumped in and said "Shes the sweetest woman I know. She will give you the shirt off her back, if she has one on."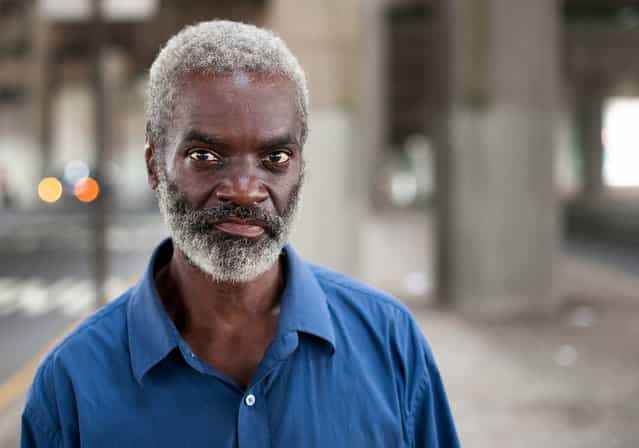 Henry: Mott Haven, Bronx
I was walking the dreary long stretch beneath the Bruckner Expressway taking pictures. Henry and I eyed each other, then he shuffled up to me and asked to have his picture taken. Disarmingly well spoken I asked him what he was doing "I am a panhandler sir." I asked him how long hes been homeless. "Since I got addicted to coke, about twenty years ago. I was a high school english teacher in Harlem, clean, then my mother passed and left me some money. I blew it on coke. I lost my job, my family, everything."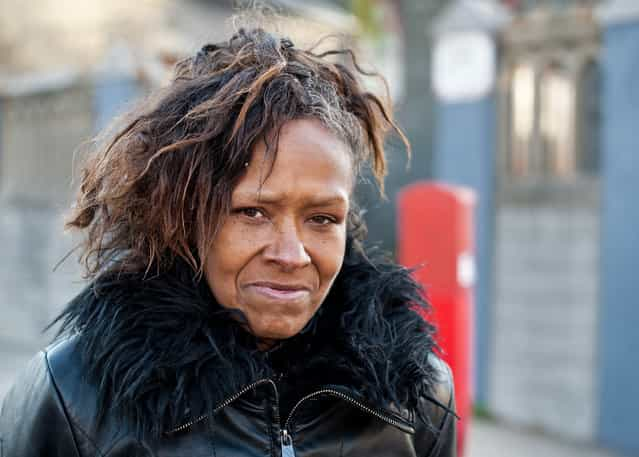 Mary Alice: Hunts Point, Bronx
I got into hookin late, when I was thirty one. Developed a bad dope problem, lost my job, needed money. I once had a pimp, but no more. Pimp stands for "Put in my pocket," they just rip you off. I asked her how she wanted to be described I am an African american women, half Jamaican, mother of two wonderful children. I fell on hard times, but do what I got to do.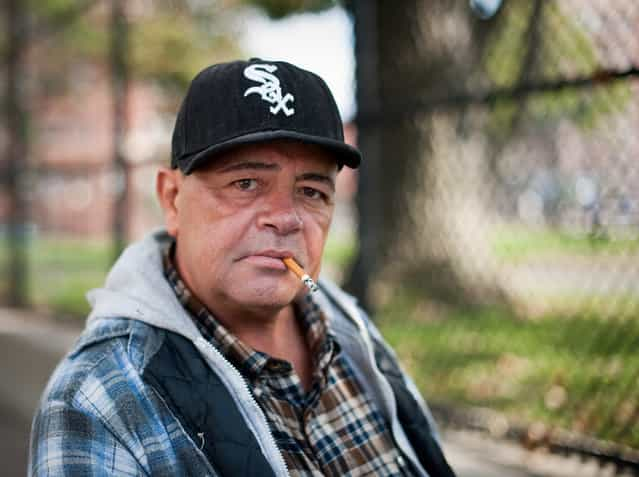 Nelson: Hunts Point, Bronx
Nelson was hanging out with Manny and others from the homeless shelter when I met him.

Nelson, who grew up in the Bronx, has been battling alcoholism since a teenager. He took a big swig from the brown paper bag and said "See, I cant stop!" then proceeded to tell me how he lost his job, his home, his family. Unrepentant, he claimed to have found peace with the bottle.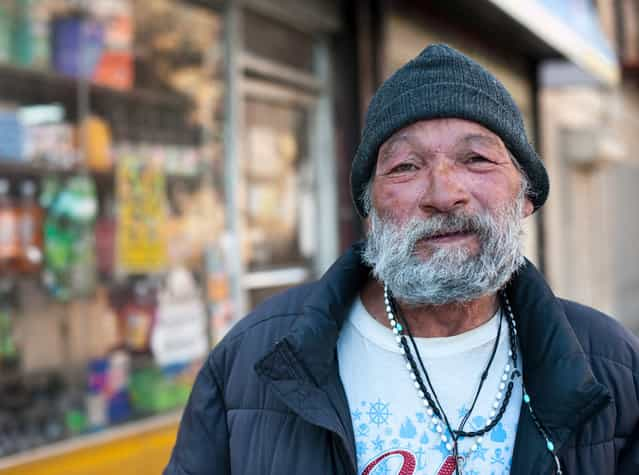 Luis again: Hunts Point, Bronx
I call him Luis, but I am not sure. Luis is unable to do more than mutter a few words, often breaking down in tears. He refuses to go to the local shelter or Methadone clinic, sleeping instead in various spots, spending his waking hours bumming cigarettes and panhandling in front of bodegas.

I worry that my pictures put a happy face on addiction. Photos cannot capture the pain, suffering, and destruction wrought by heroin, crack or in this case whiskey. Sometimes it requires smoking a cigarette with a sobbing incoherent drunk to truly remind you what loneliness and addiction can do.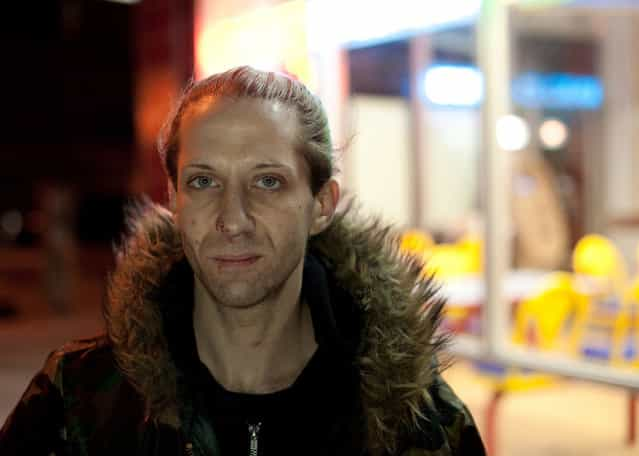 Michael "Shelley": Hunts Point, Bronx
Michael, who also goes by Shelley, was disowned by his parents at 15 because he was gay. He turned to prostitution: "I was out on the streets, and that was the easy way to survive." He has been working in Hunts Point or Newburg since then, needing the money to live, and for crack and heroine. He dresses as a woman when he walks the streets, with almost all of his clients not knowing he is male. He also has a steady client of gay married men, who are deep in the closet.

His father, a trucker in the Bronx, was "strung out on drugs, and abusive." Michael was molested when young. When he told his parents "they blamed me. If you werent gay it wouldnt have happened."

When I asked him if I could post his story, he said yes, and his friend said: "This is nothing. This is everywhere. There is a lot more shit out here."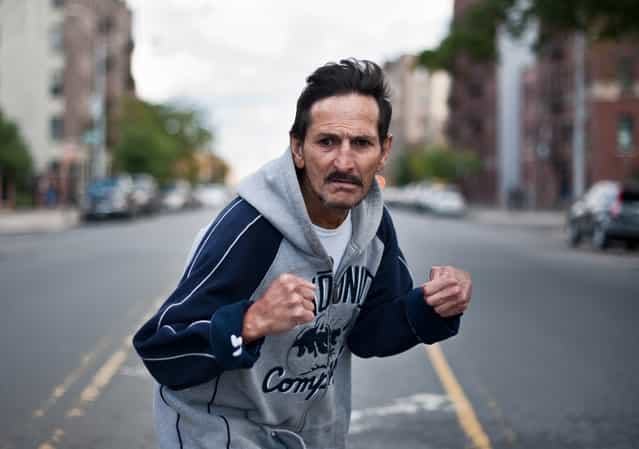 Manny Quiles: Hunts Point, Bronx
Former pro boxer (lightweight) from Connecticut, now an addict living in a homeless shelter. Mannys career ended after several injuries left him with a right eye that is unable to focus. Unable to fight, with little other skills, he found himself homeless and turned to heroin.

He was with five other men from the shelter hanging out in the park. All of them told me their story, how addiction has taken everything from them.

When I returned to give him picture I was told he had been removed from the shelter, accused of theft. I have not been able to locate him since.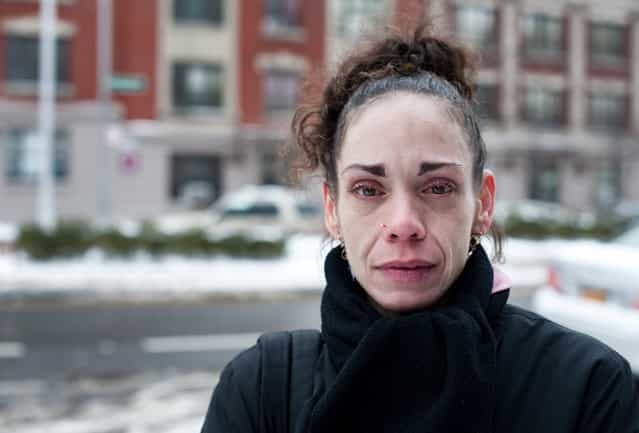 Maribel: Hunts Point, Bronx
Maribel approached me and my friend Nina, looking for fifty cents. I asked her if I could take her picture and listen to her story. She replied, "If I tell you my story, I´ll make you cry, but I wanna do the before and after, and I promise a year from today you are gonna take my picture again and I´m gonna be bloomin."

An addict (mostly crack), Maribel is the mother of five children. Her five-month old and her husband were killed in a car accident when she was just 19 years old. A year ago she lost her baby boy, James Alexander, to the courts and since then has been in a downward spiral, her health is failing and she is back into drugs. With tears in her eyes she said "You know how heartbreaking that is? I had five children and never had one been removed."

When I asked her about prostitution she said, she used to, but "now I get in the guys cars but I dont do nothing. I rob them, honest to God." When I told her I was going to write that she said, "I know who I am, I know where I stand, and I know where I´m heading. I can always hold my head up high."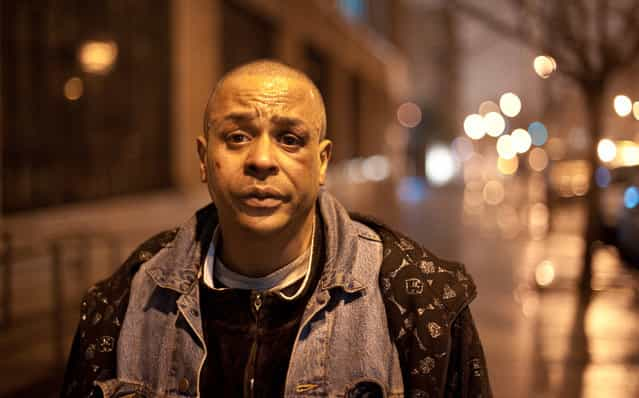 Castro: Hunts Point Bronx
Close to midnight, in the pouring rain, I saw Castro running down the street towards the shelter where he lives, followed by two men. They caught him in front of the Monestary and beat him. A police car, slowed, then pulled away, while the men continued to punch and kick Castro. After high fiving each other, they ran back to the corner bodega. When I got to him, Castro picked himself up and asked for another beer and a cigarette. I gave him a smoke and walked him back to the shelter.

Natalie was outside of the shelter, smoking. She took care of Castro, cleaning his face. I gave her a copy of the picture I had taken the prior day. Castro, seeing it, insisted on having one taken of him. When I asked him what had happened outside the bodega, he laughed and said, "nothing, nothing, everyone is nice to me." Natalie said Castro had bumped one of the men.

Born and raised in the South Bronx, Castro lived most of his life in a small space underneath the Bruckner overpass with his cats, before being brought to the shelter. He still walks everyday to his old space to bring food for the cats.

I post peoples stories as they tell them to me. I am not a journalist. I dont try to verify, just listen.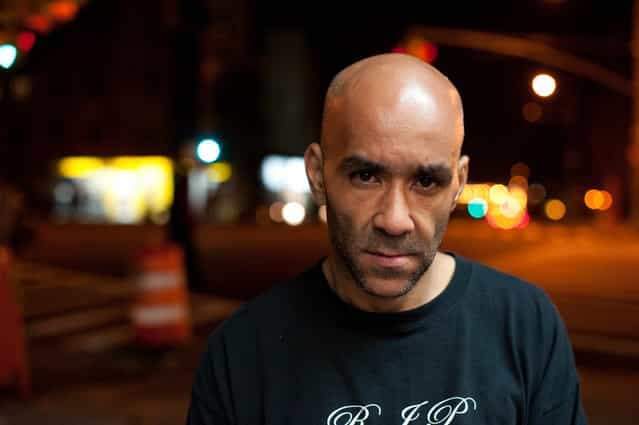 David: Hunts Point, Bronx
David, 36, started helping deal drugs at 9 as a runner with bags of crack, and was in juvenile detention by 10. Describing his family through tears, he said "my father kicked me out soon after I went to detention. I was on my own. My mom died when I was 6, so I never had a family." He has been using heroin and crack from then until a year ago and battling depression all his life. "I am a loner by nature. My problems is my problems."

A year ago he met his wife, who he credits for keeping him out of problems. The only drug lapses he has had since are during social situations, "when we go out and are surrounded by it."

When I asked him his dream he said, "I want a normal family, the family I never had. I want to be the man of the house, to provide."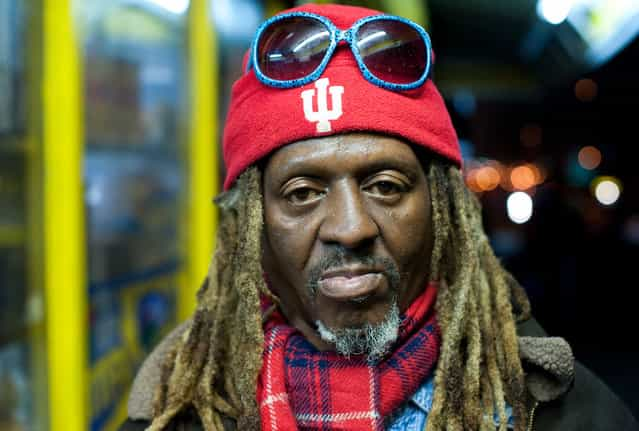 Supreme: Hunts Point
I have spoken with Supreme many times (Supreme and Supreme again), but he has only recently been talking to me about his past. When asked why some called him Supreme, others Willie, he said, "My righteous name" is Supreme but my "slave name" is Willie.

Now fifty-seven, Supreme was born and raised in a small South Carolina town, the middle child in a family of fourteen kids. At the age of fourteen he ran away, ending up on the streets of Hunts Point. By fifteen he was addicted to weed, liquor, and then heroin. The father of four children, hes "done bunch different stuff to get money; Bricklaying, construction, gardening, and scrap metaling." On and off the streets, in and out of rehab, he is now in and out of the hospital. He has never been in jail. "Your looking at a 57 year old black man on the streets who gots no felonies." He said his favorite job, and what he loves doing, is gardening and landscaping.

When I asked him his dream he said, "To fix up the family farm back in South Carolina. Raise me some hogs and fish. Get my hands in the dirt. "

I post peoples stories as they tell them to me. I am not a journalist. I dont try to verify, just listen.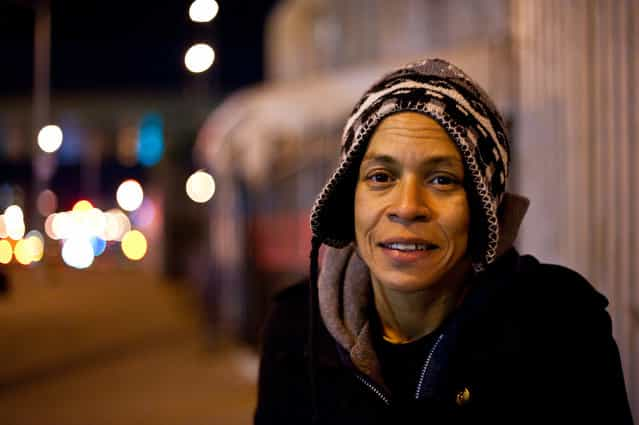 Lisa: Hunts Point, Bronx
Despite the weather, Lisa was in front of her house, looking for customers in the evening warehouse shift-change. She was cold and high. Her eyes shifted with each passing car, her feet stamping to stay warm.

Addicted to crack early, she turrned to prostitution. I only use it now and then. Im no longer an addict. She is the mother of eight children, the first born when she was fifteen.

I asked her how she wanted to be described. She said I am conflicted, complex. I aint bad. I got many things going on. People are not simple.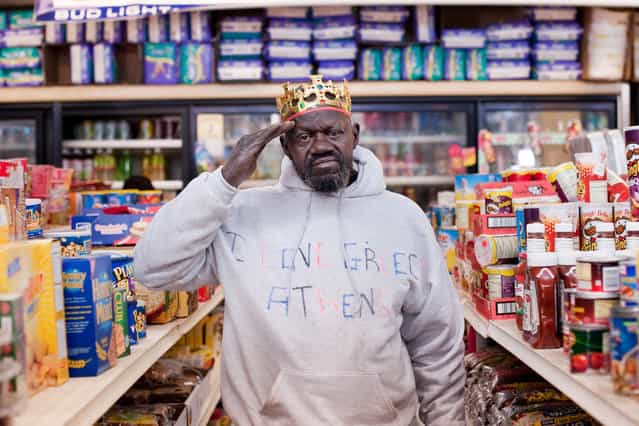 Eugene again: East Tremont, Bronx
I came back to give Eugene a copy of his picture. He was inside the deli, where he sweeps, mops, and breaks down boxes. He smiled and showed me his new shirt that said "I love Greece Athens."

I have spent the last year, like others in finance, dealing with Greece. The irony of being reminded of this in a Bronx Bodega made me chuckle. Eugene said, "You dont like Athens? I loved it." I explained, and then he told me of his world travels as a Marine, enlisted for sixteen years, from 67 to 83. And so the salute from Eugene: Lover of Greece, Marine, Vietnam Vet.
more here