Findings
Search results 50 Articles (Search results 1 - 10) :
---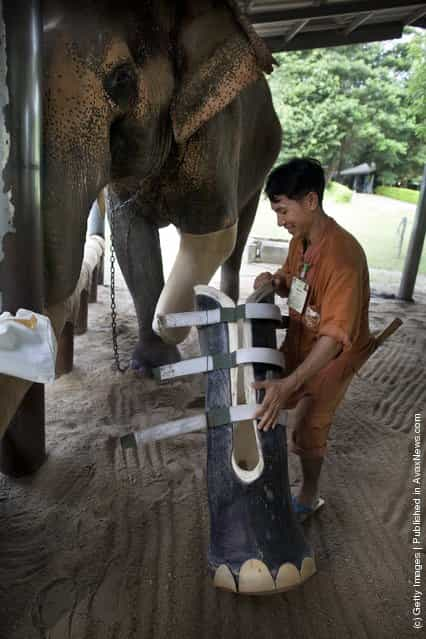 A mahout removes the prosthetic from Motala, age 50, at the Friends of the Asian
Elephant
(FAE)
elephant
hospital
in the Mae Yao National Reserve August 29, 2011 Lampang,Thailand. Motala lost a foot many years back after stepping on a land mine and now is on her third prosthetic, as they need to be changed according to the weight of the
elephant
. (Photo by Paula Bronstein/Getty Images)
More 0
---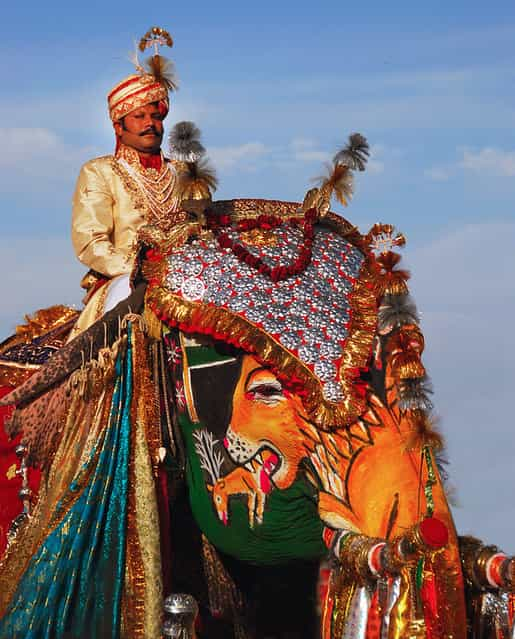 Elephant

Festival is a festival celebrated in Jaipur city in Rajasthan state in India. It is held on the day of Holi festival, usually in the month of March.The festival features

Elephant

polo and

Elephant

Dance. The

Elephant

Festival begins with a beautiful procession of bedecked

elephant

s, camels, horses and folk dancers. The owners proudly embellish their

elephant

s with vibrant colors, jhools (saddle cloth) and heavy jewellery. It is quite a treat to see female

elephant

s wearing anklets, which tinkle as they walk. One can see people sprinkling gulaal (colored powder) perched on top of the

elephant

. The most beautifully decorated

elephant

is awarded.

Elephant

polo,

Elephant

race, the tug-of-war between

Elephant

and 19 men and women are the featured events of the festival.
More 0
---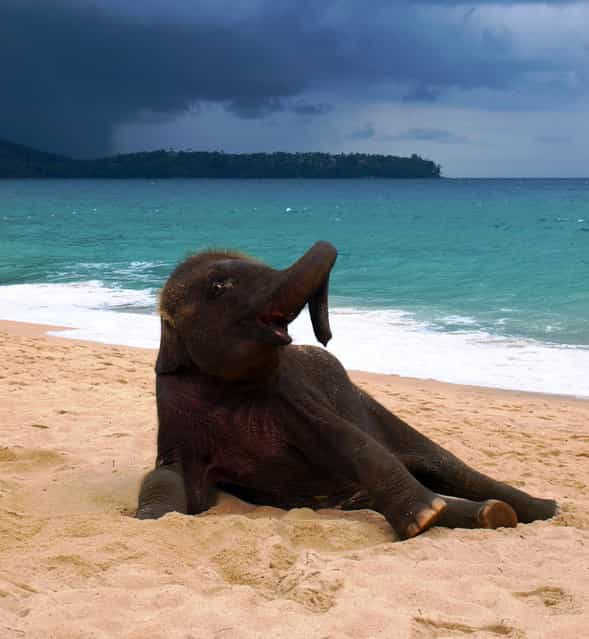 When this baby
elephant
saw the waves on the beach, he could not resist to take a plunge. See how happy this cute
elephant
while playing on the beach in Phuket-Thailand. You can see him smiling many times, probably he enjoyed his time on the water.
More 0
---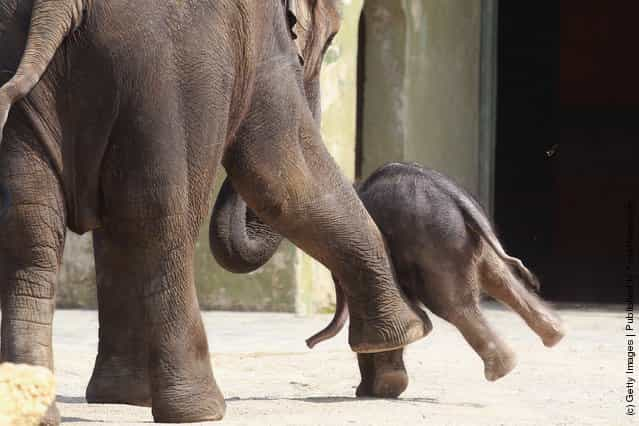 A newly-born male baby
elephant
, who so far does not have a name, walks with his mother Temi during his first venture outside at their enclosure at the Tierpark Hellabrun zoo on May 12, 2011 in Munich, Germany. The baby
elephant
was born at the zoo on May 6. (Photo by Alexander Hassenstein/Getty Images)
More 0
---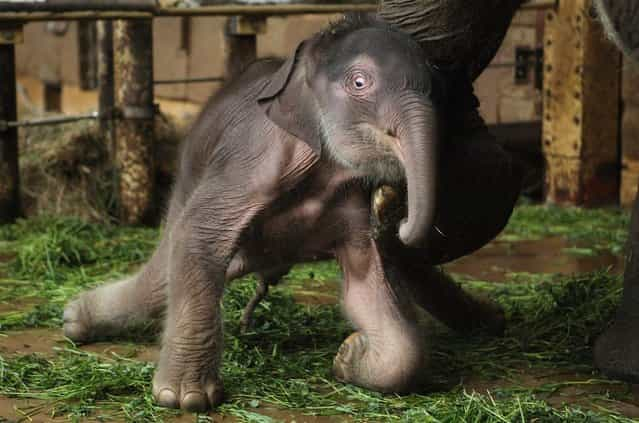 A baby Asian
elephant
, born only two days before, stands next to his mother Nova in its enclosure at Tierpark Berlin Zoo on May 10, 2012 in Berlin, Germany. The male
elephant
calf, who does not have a name yet, weighs 102kg and is 91cm tall. (Photo by Timur Emek/dapd/Sean Gallup)
More 0
---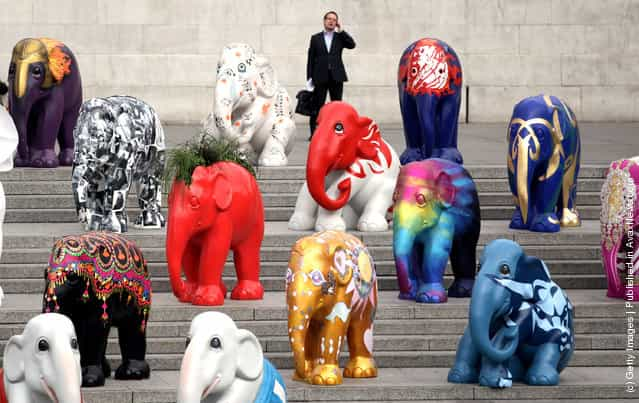 Decorative model
Elephant
s stand in Trafalgar Square on May 4, 2010 in London, England. 260 of the decorative life size baby
Elephant
s have been designed by established and emerging artists including Paul Smith, Marc Quinn and Julien Macdonald and have been placed across the capital in prominent places such as Buckingham Palace, Parliament Square and Trafalgar Square. (Photo by Dan Kitwood/Getty Images)
More 0
---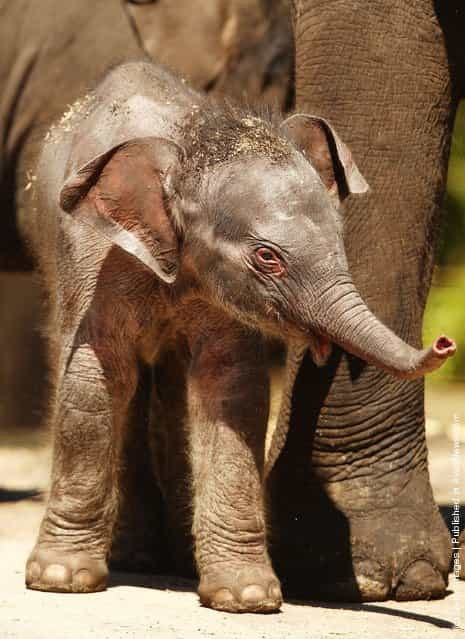 Tarongas first female
elephant
calf explores the paddock with her mother Pak Boon at Taronga Zoo on November 3, 2010 in Sydney, Australia. The 120kg
elephant
was born at 1:12am and is Tarongas first female calf and fifth born to The Australian Conservation Management Plan for endangered
elephant
s. The calf will be given a Thai name to reflect the herds cultural origin. (Photo by Brendon Thorne/Getty Images)
More 0
---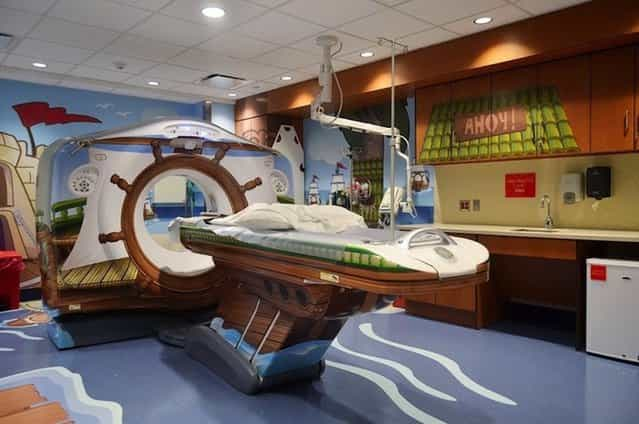 The Morgan Stanley Children's
Hospital
of NewYork-Presbyterian recently installed a new CT scanner in their radiology testing room, but what separates the machine from others of its kind is that it is designed in the likeness of a pirate ship. Being that the facility is designated for medical testing on children, the
hospital
opted for a playful piece of equipment when it came time to replace their old medical apparatus.
More 0
---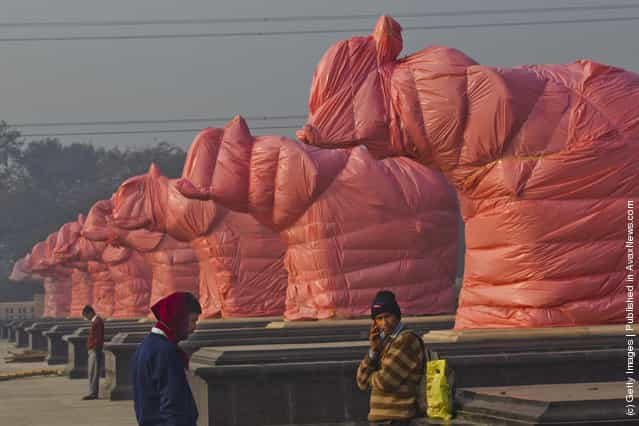 A worker stands under covered
elephant
statues at the Ambedkar Park on January 11, 2012 in Noida, Uttar Pradesh, India. Indias Election Commission has ordered the covering up of statues, the symbol of the Bahujan Samaj Party, ahead of next months elections in the state of Uttar Pradesh. (Photo by Daniel Berehulak /Getty Images)
More 0
---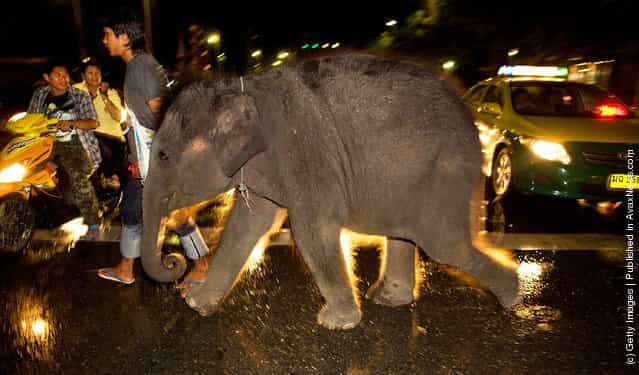 A mahout (
elephant
driver) walks a baby
elephant
across the city streets at night September 27, 2008 in Bangkok, Thailand. (Photo Paula Bronstein/Getty Images)
More 0