Purim
---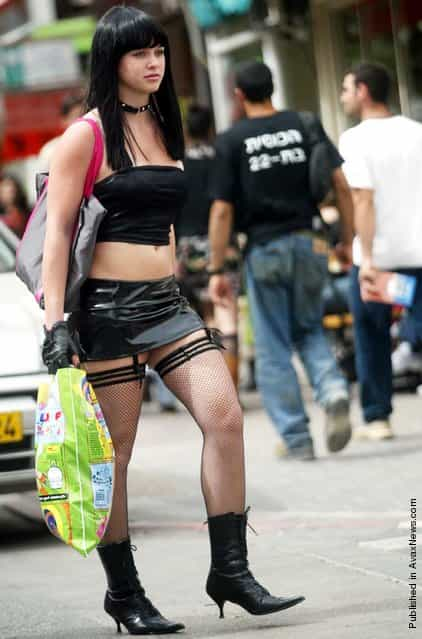 An Israeli girl in costume, celebrates the Jewish festival of Purim on March 5, 2004, in Tel Aviv, Israel. The Festival commemorates the rescue of Jews from genocide in ancient Persia.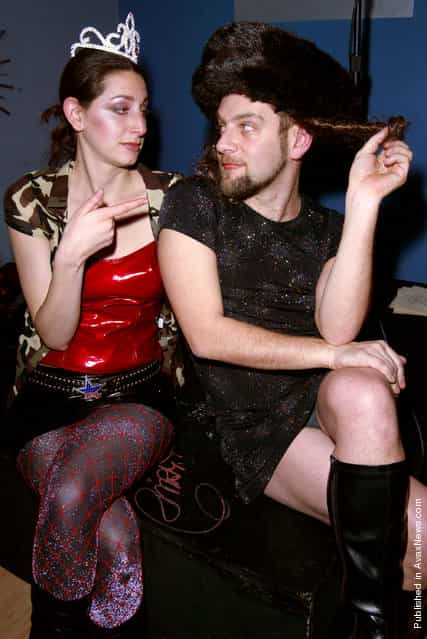 Musician Amy Tobin and Amichai Lau-Lavie pose at Estherminator: A Psycho-Pious Purim Rock Opera at Club Opaline March 15, 2003 in New York City.
Wearing a costume, a young ultra-Orthodox Jew looks on as his father and grandfather read from the Scroll of Esther February 26, 2002 during Purim festivities in a synagogue in Bnei Brak. Purim celebrates the saving of the Jewish community of ancient Persia from the gallows 2,500 years ago just after King Achashverosh consolidated his rule over the Persian empire.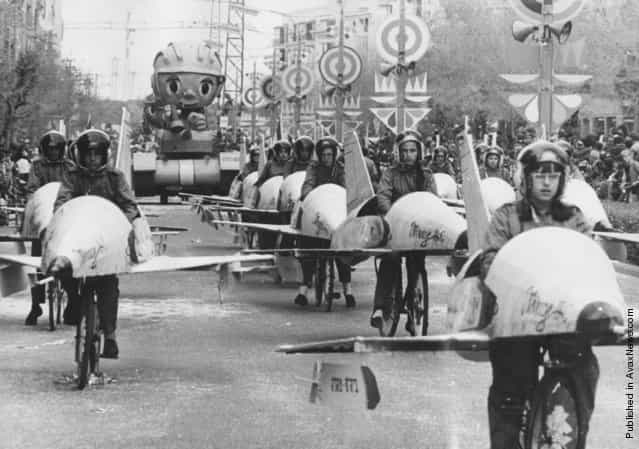 Cyclists representing the Dassault Mirage III fighters of the Israeli Air Force in a military parade marking the Jewish festival of Purim, Israel, March 1968.
An ultra-Orthodox Jew dances on the table of his spiritual leader Rabbi Yisrael Hager, as a boy wears a costume during Purim festivities in the Vizhnitz synagogue March 7, 2004 in the central Israel town of Bnei Brak. Purim, which marks the salvation of ancient Jewry from Persian genocide approximately 2,500 years ago, is celebrated with excessive drinking, dancing and singing until the participants are unable to tell the difference between good and evil.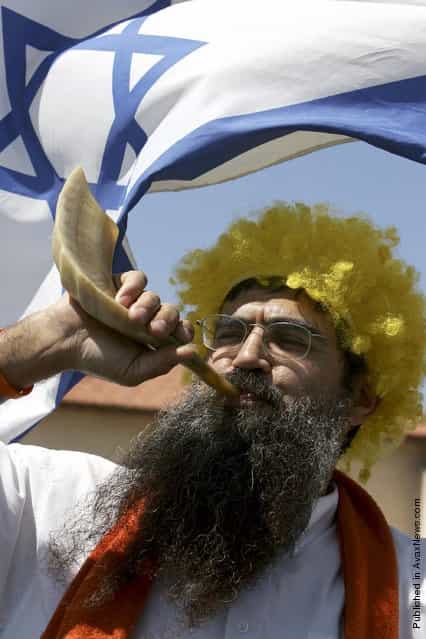 Right-wing Jewish settler Yitzhak Cohen blows on a Shofar, a ceremonial rams horn, during Purim festivities March 25, 2005 in Neve Dekalim settlement in the Gaza Strip, just four months short of the communitys evacuation under Israeli Prime Minister Ariel Sharons Gaza disengagement plan. The festival celebrates the deliverance of the Jewish people from destruction planned against them in ancient Persia some 2,500 years ago.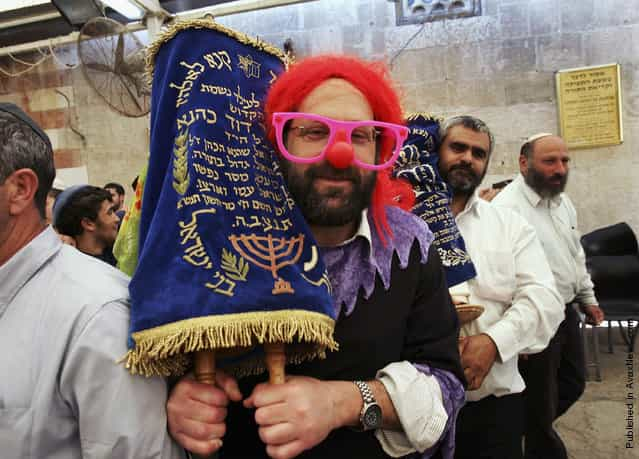 An Israeli settler wears fancy dress whilst dancing with a Torah scroll during Purim festivities March 27, 2005 in the Cave of the Patriarchs in the West Bank town of Hebron. Hundreds of settlers paraded amidst tight security through the town where they live surrounded by more than 120,000 Palestinians as they brought two new Torah scrolls to the tomb of the biblical Patriarchs while celebrating the deliverance of the Jewish people from destruction planned against them in ancient Persia some 2,500 years ago.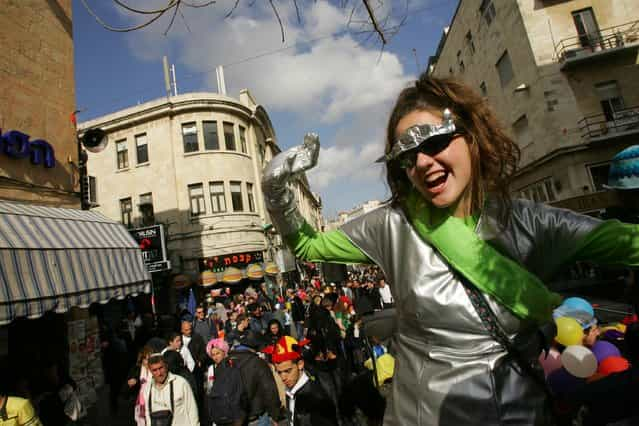 Israelis celebrate the Jewish festival of Purim March 15,2006 in Jerusalem, Israel.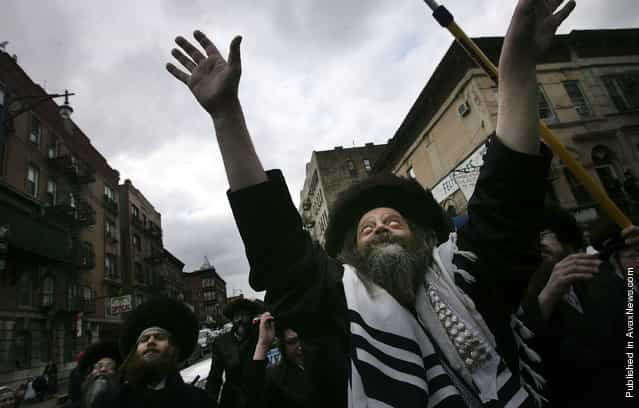 Hasidic Jews celebrate the festival of Purim in the borough of Brooklyn March 4, 2007 in New York City.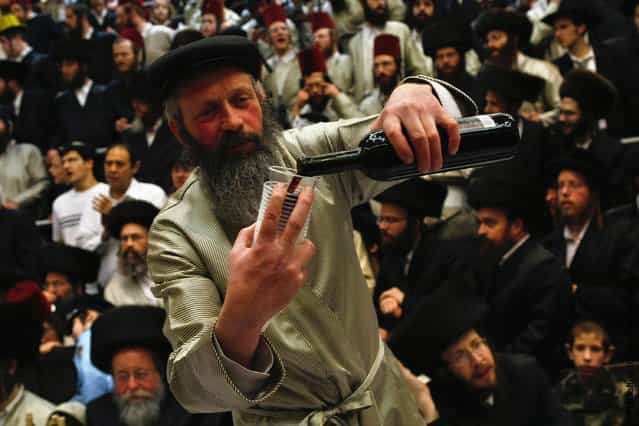 An ultra-Orthodox Jew pours wine for worshippers during Purim celebrations at the Lelov Chassidic synagogue on March 10, 2009 in Bnei Brak, a religious town near Tel Aviv in central Israel.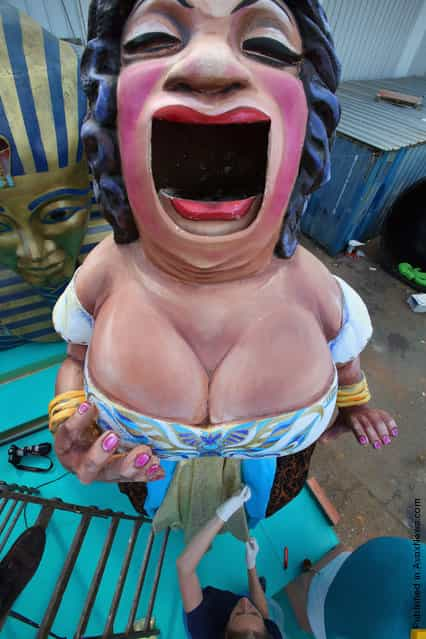 A woman tacks a dress to an oversized opera singer as workers put the final touches on dozens of large colourful floats to be used next week in Purim carnivals throughout the country, at the Simaney-Derech workshop on February 23, 2010 near Kfar Saba in central Israel.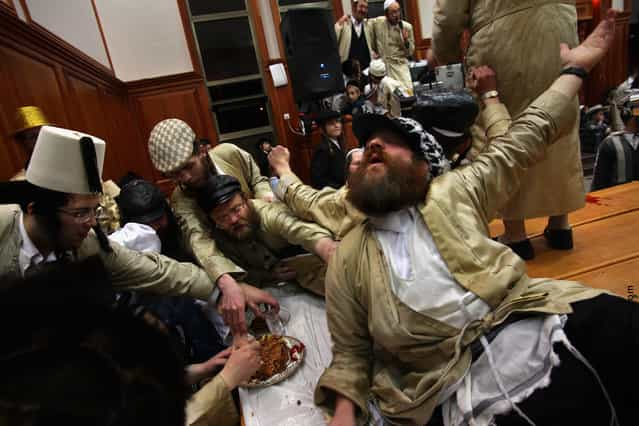 Ultra-Orthodox Jews crowd their rabbis table to be blessed with a handful of food from his plate during Purim festivities at the Toldot Avraham Yitzhak Chassidic synagogue on February 28, 2010 in Beit Shemesh in central Israel.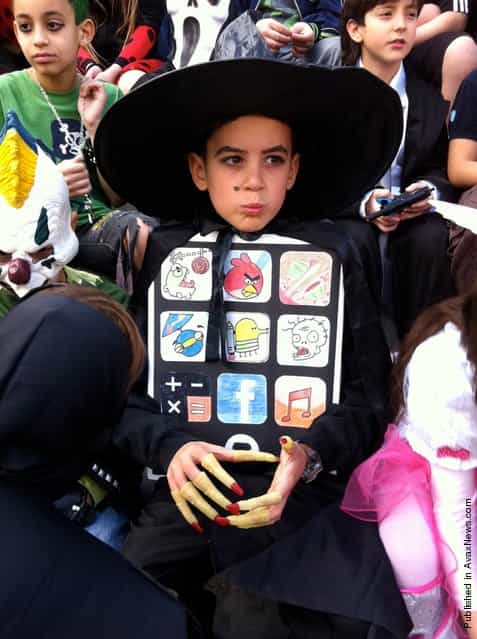 Purim 2011 - iPhone Kid, 18 march 2011, Haifa, Israel.