Police Seize Rare Animals From Thai Pet Store
---
Police seized hundreds of rare and protected animals from a warehouse in Bangkok, Thailand. The warehouse belonged to a pet shop owner, identified as Montri Boonprom-on, 41, and included 14 rare lions.

The lions taken by police were African white lions, the Associated Press reports. Other animals owned by the pet shop owner included a leopard, capuchin monkeys, a rare hornbill, meerkats and tortoises. Montri will be charged with several counts of possession of wildlife, AP notes, which carries a penalty of up to four years in jail and a possible fine of $1,300.

Montri was selling the rare animals on the black market and owned a pet shop specializing in exotic animals at the Chatuchak weekend market, AP reports. Many of the animals found in the warehouse are protected by law, making the sale and ownership of the animals illegal. Thailand is a popular black market destination for those trafficking in exotic wildlife and those wanting to add to their collection of rare animals.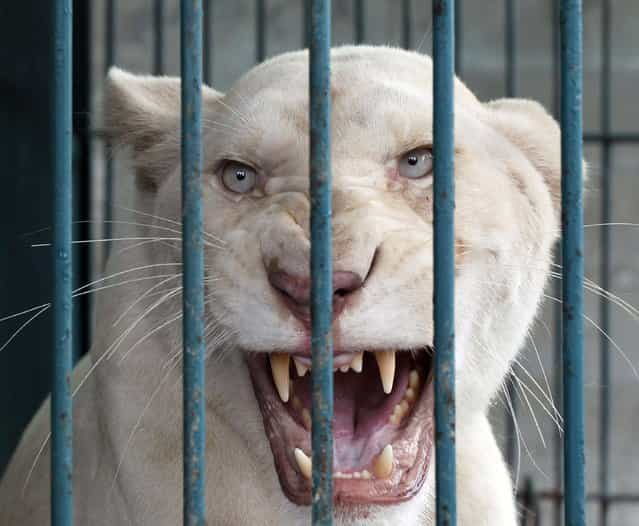 A lioness bares its teeth inside an enclosure after a raid at a zoo-like house on the outskirts of Bangkok, Thailand Monday, June 10, 2013. Thai police and forestry officials searched and seized a number of imported and endangered animals including 14 lions from Africa and arrested the house's owner. (Photo by Apichart Weerawong/AP Photo)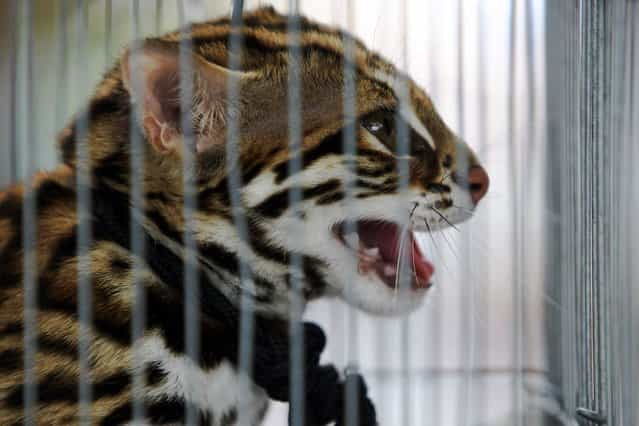 A wild animal looks on from inside a cage during a police raid on the outskirts of Bangkok June 10, 2013. (Photo by Chaiwat Subprasom/Reuters)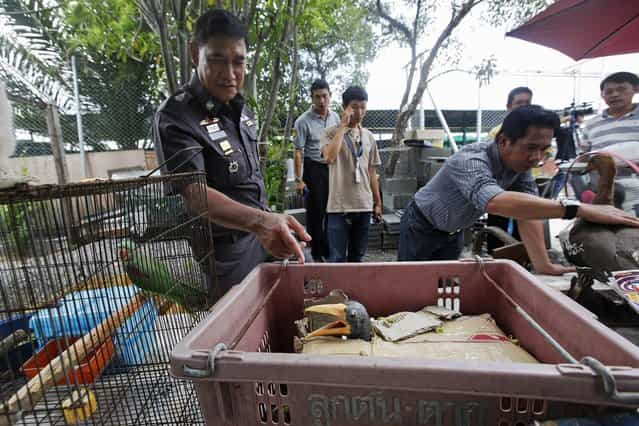 A police officer stands among caged animals during a raid on the outskirts of Bangkok June 10, 2013. (Photo by Kerek Wongsa/Reuters)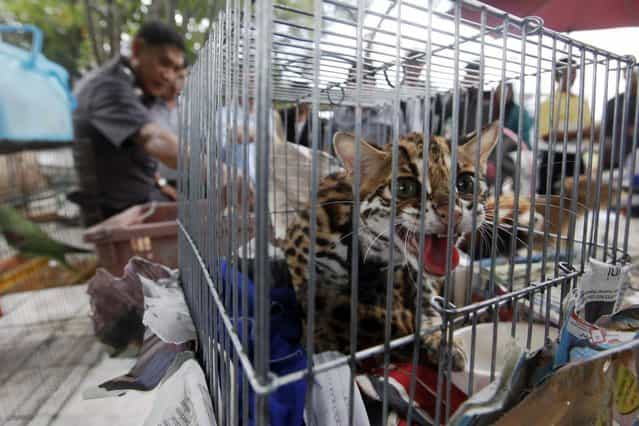 A police officer stands among caged animals during a raid on the outskirts of Bangkok June 10, 2013. Thai police said they confiscated more than a thousand wildlife animals on Monday and will investigate to verify their origin. Almost 1,000 sugar gliders, 14 white lions, 12 peacocks, 17 marmosets and many other wild animals were found in cages in the suburbs of Bangkok. (Photo by Kerek Wongsa/Reuters)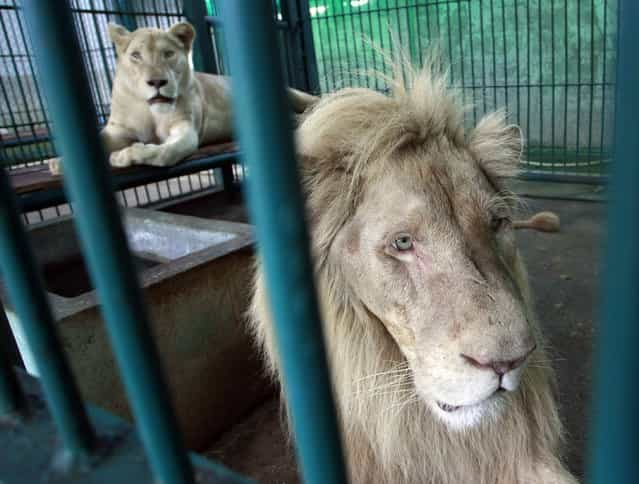 Lions rest inside an enclosure after a raid at a zoo-like house on the outskirts of Bangkok, Thailand Monday, June 10, 2013. (Photo by Apichart Weerawong/AP Photo)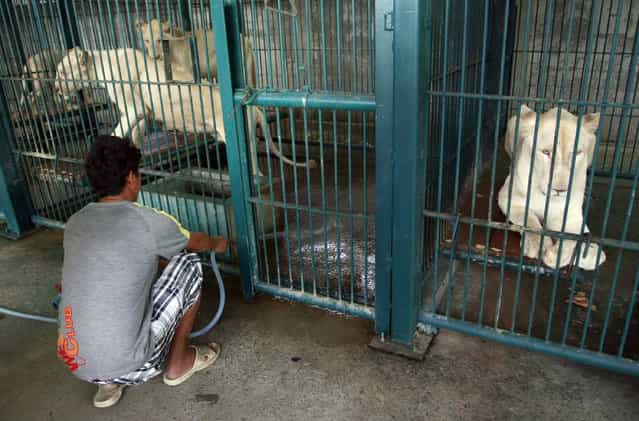 A Thai man spays water to clean the lion's enclosure after a raid at a zoo-like house on the outskirts of Bangkok, Thailand Monday, June 10, 2013. (Photo by Apichart Weerawong/AP Photo)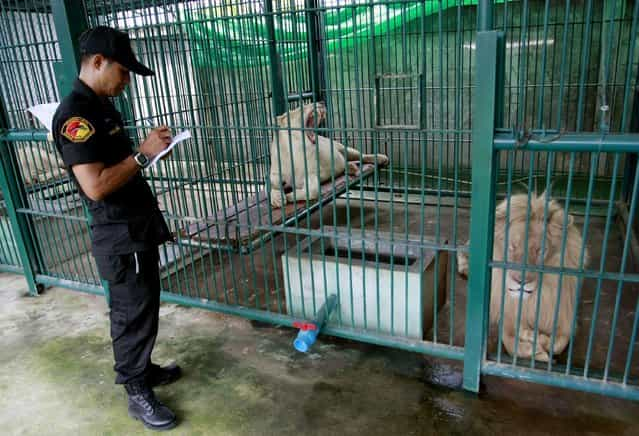 A Thai forestry official takes a note as he examines lions in the enclosure at a zoo-like house on the outskirts of Bangkok, Thailand Monday, June 10, 2013. (Photo by Apichart Weerawong/AP Photo)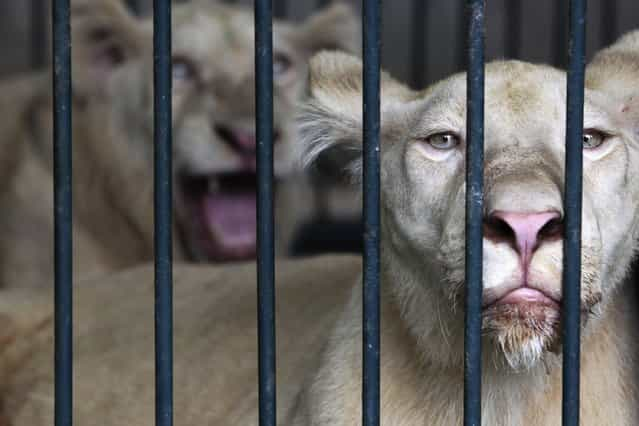 White lions react in a cage during a police raid on the outskirts of Bangkok June 10, 2013. (Photo by Kerek Wongsa/Reuters)