Dubai's Ice Cafe
---
Honeymooners and other tourists from the Gulf are heading to the throbbing heart of Dubai to beat the summer heat by cooling off at the first [ice lounge] in the Middle East.

The interior decor of Dubai's Chillout cafe is made entirely of carved ice, with frozen picture frames, ice curtains and frosty seats covered in fur. Can you imagine you're in a freezing café while it's 35 degrees (Celsius) outside?

Visitors are kitted out with thermal jackets, boots and fur hats provided by the cafe in a striking similarity to the ice hotels which dot Scandinavia in winter. Visitors to Chillout pay Dh60 for a 40-minute visit and are served one hot drink. The cafe can fit 40 people at a time and gets about 100 visitors a day.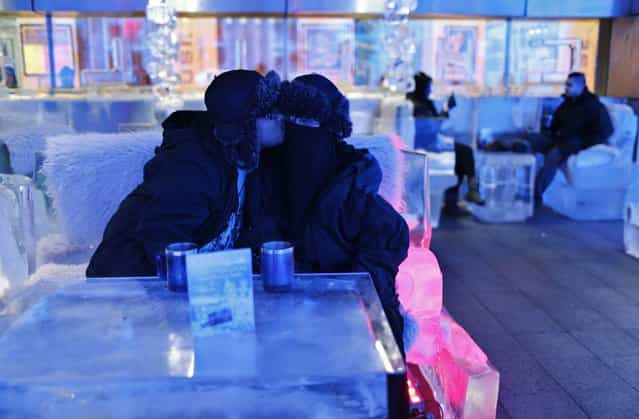 Honeymooner Ahmed, form Saudi Arabia who got married last week, kisses his veiled bride at Chillout cafe in Dubai May 12, 2013. Chillout, owned by UAE's Sharaf Group, is the first ice lounge in the Middle East, with temperatures set at –6 degrees Celsius (21 degrees Farenheit). The cafe, with its illuminated interiors, curtains, paintings and seating arrangements, is all made of carved ice and frozen sculptures. (Photo by Ahmed Jadallah/Reuters)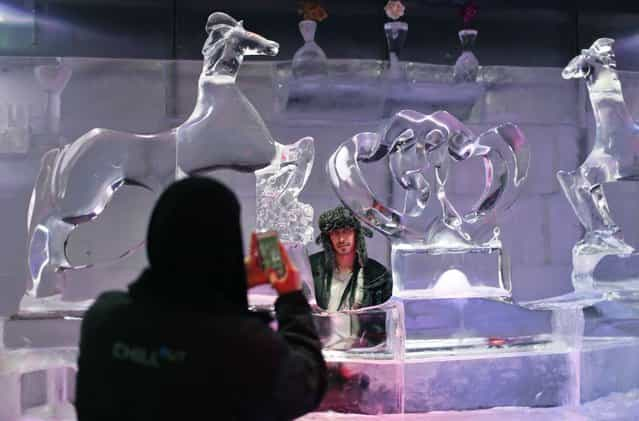 A woman photographs her husband standing behind the bar at Chillout cafe in Dubai May 12, 2013. (Photo by Ahmed Jadallah/Reuters)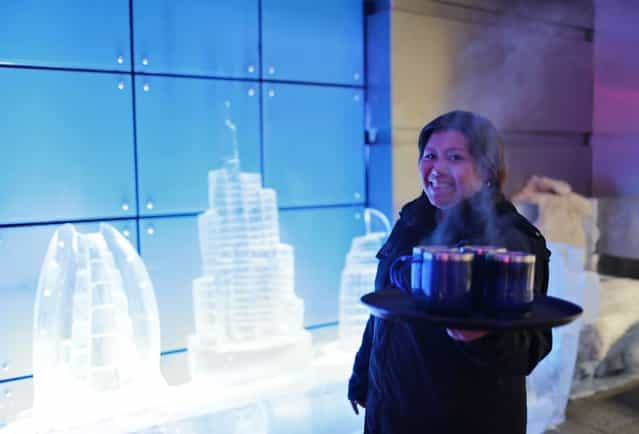 A waitress serves hot chocolate at Chillout cafe in Dubai May 12, 2013. (Photo by Ahmed Jadallah/Reuters)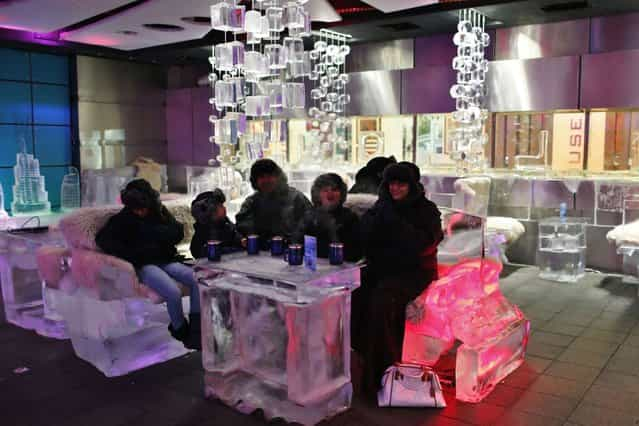 A Saudi Arabian family drinks hot chocolate at Chillout cafe in Dubai May 12, 2013. (Photo by Ahmed Jadallah/Reuters)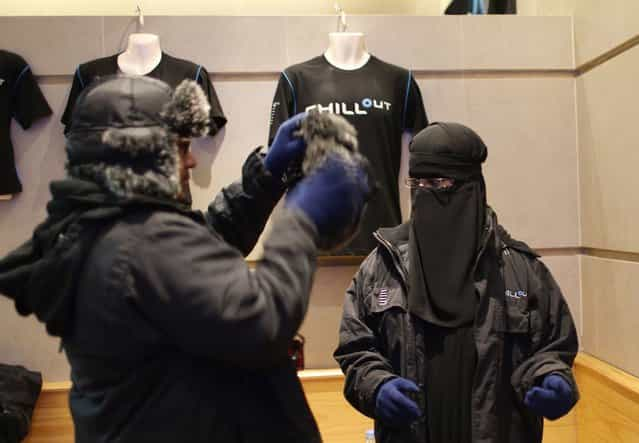 Ahmed, a Saudi Arabian, helps his newly-wed wife Nofa put on a fur hat at Chillout cafe in Dubai May 12, 2013. (Photo by Ahmed Jadallah/Reuters)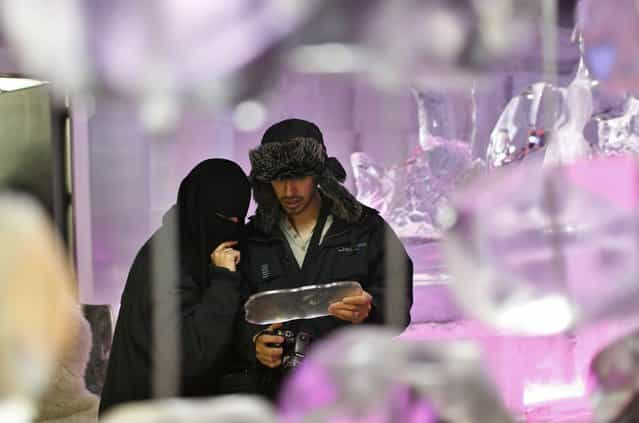 A Saudi Arabian couple inspect the menu at Chillout cafe in Dubai May 12, 2013. (Photo by Ahmed Jadallah/Reuters)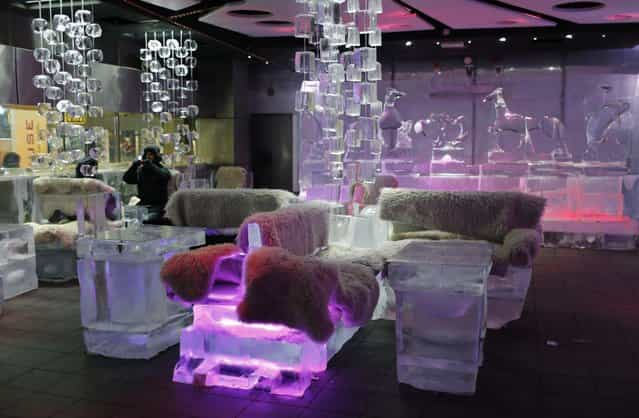 A general view of the Chillout cafe is pictured in Dubai May 12, 2013. (Photo by Ahmed Jadallah/Reuters)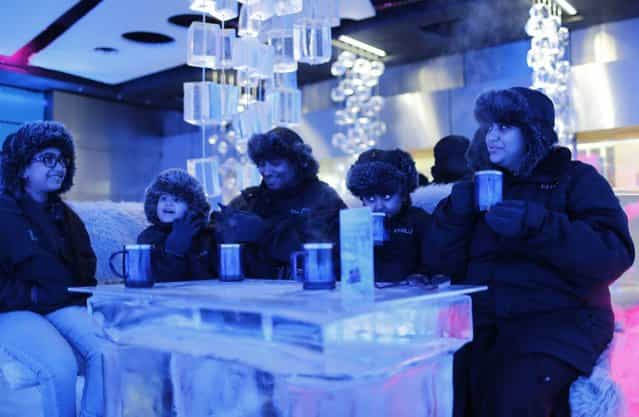 A Saudi Arabian family drinks hot chocolate at Chillout cafe in Dubai May 12, 2013. (Photo by Ahmed Jadallah/Reuters)
A British couple get themselves ready before entering Chillout cafe in Dubai May 12, 2013. (Photo by Ahmed Jadallah/Reuters)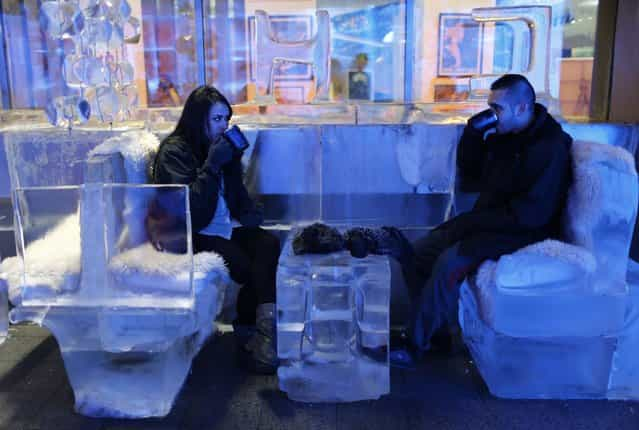 A British couple drink hot chocolate at Chillout cafe in Dubai May 12, 2013. (Photo by Ahmed Jadallah/Reuters)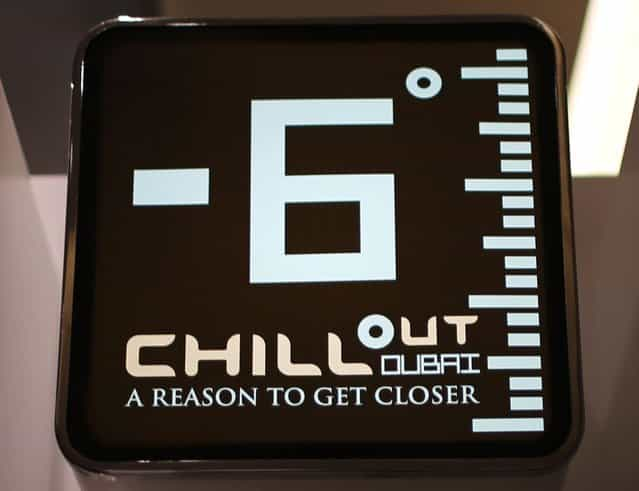 A display shows the temperature at Chillout cafe in Dubai May 12, 2013. (Photo by Ahmed Jadallah/Reuters)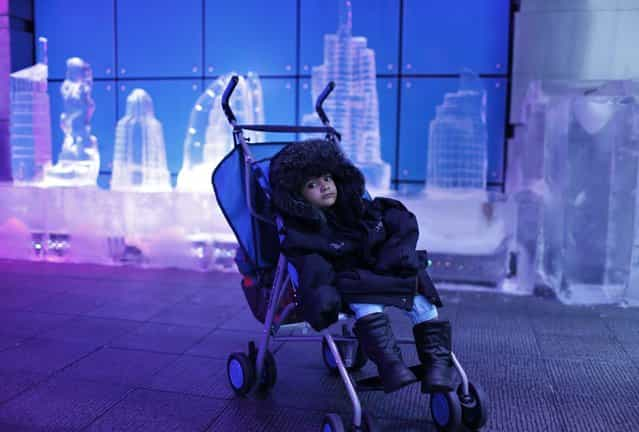 A toddler sits in his stroller while his parents tour the insides of the Chillout cafe in Dubai May 12, 2013. (Photo by Ahmed Jadallah/Reuters)