X-47B Makes Historic Carrier Launch
---
The X-47B prototype on Tuesday flew off an aircraft carrier and into the history books. Today's achievement, the first-ever catapult launch of an unmanned aircraft from the flight deck of a carrier, promises to open up a new chapter in the annals of naval aviation.

The X-47B Unmanned Combat Air System demonstrator launched from the deck of the USS George H.W. Bush at 11:18 a.m. ET off the coast of Virginia. It executed several planned low approaches to the carrier – a carrier landing will take place at a later time – and then flew across Chesapeake Bay to land at Naval Air Station Patuxent River, Md., after an approximately 65-minute flight.

Although "combat" is part of the aircraft's full designation, the X-47B is not intended to fly in harm's way. Rather, its purpose is to prove a point: that unmanned aircraft can share the crowded, hectic flight deck of a carrier with traditional piloted planes, and that they can be integrated into naval flight operations, period.

[Today we saw a small, but significant pixel in the future picture of our Navy as we begin integration of unmanned systems into arguably the most complex warfighting environment that exists today: the flight deck of a nuclear-powered aircraft carrier], said Vice Admiral David Buss, commander of Naval Air Forces, in a statement.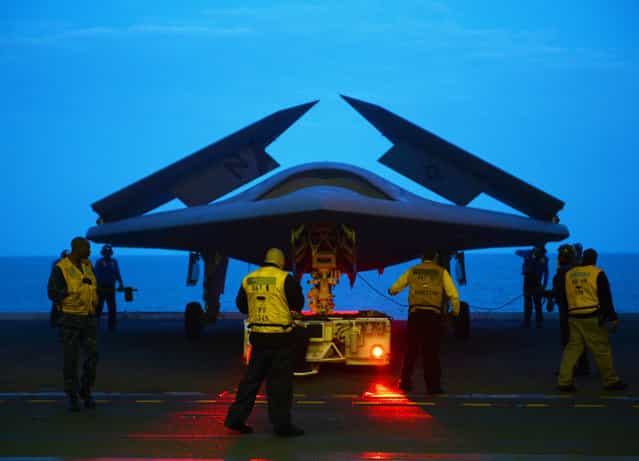 An X-47B Unmanned Combat Air System (UCAS) demonstrator is towed into the hangar bay of the aircraft carrier USS George H.W. Bush (CVN 77). George H.W. Bush is scheduled to be the first aircraft carrier to catapult-launch an unmanned aircraft from its flight deck. (Photo by Mass Communication Specialist 2nd Class Timothy Walter/U.S. Navy Photo)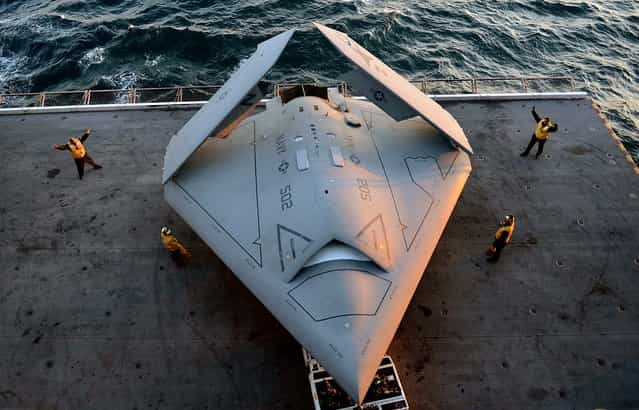 In this handout released by the U.S. Navy, Sailors move an X-47B Unmanned Combat Air System (UCAS) demonstrator onto an aircraft elevator aboard the aircraft carrier USS George H.W. Bush (CVN 77) May 14, 2013 in the Atlantic Ocean. George H.W. Bush is scheduled to be the first aircraft carrier to catapult-launch an unmanned aircraft from its flight deck. The Navy plans to have unmanned aircraft on each of its carriers to be used for surveillance and be armed and used in combat roles. (Photo by Mass Communication Specialist 2nd Class Timothy Walter/U.S. Navy via Getty Images)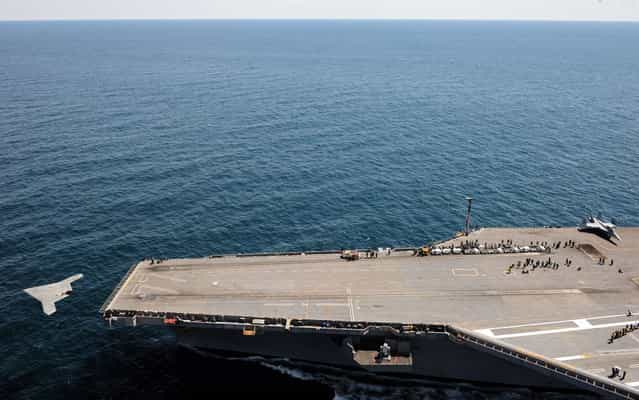 The X-47B makes its catapult launch from USS George H.W. Bush, May 14, 2013. (Photo by MC3 Brian Read Castillo/Marinha dos EUA/AFP Photo)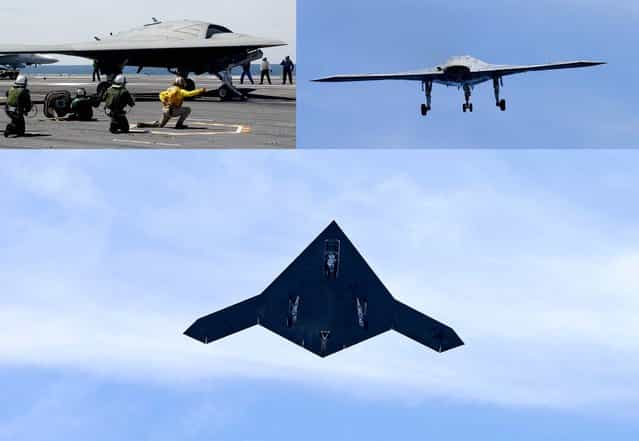 A Navy X-47B drone is launched off the nuclear powered aircraft carrier USS George H. W. Bush off the coast of Virginia. The plane isn't intended for operational use, but it will be used to help develop other unmanned, carrier-based aircraft. (Photo by Steve Helber/Associated Press)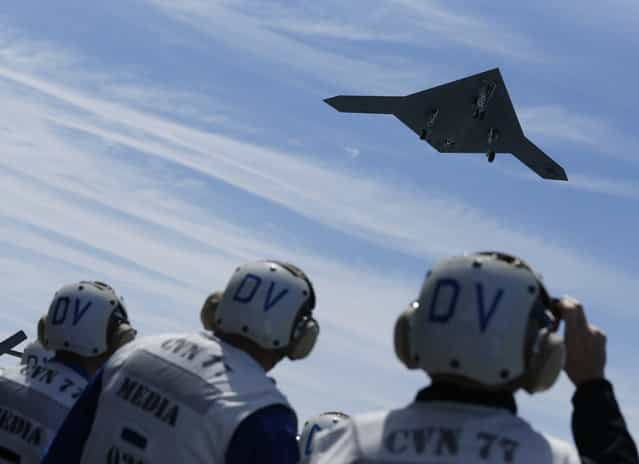 An X-47B pilot-less drone combat aircraft is launched for the first time off an aircraft carrier, the USS George H. W. Bush, in the Atlantic Ocean off the coast of Virginia, May 14, 2013. The U.S. Navy made aviation history on Tuesday by catapulting an unmanned jet off an aircraft carrier for the first time, testing a long-range, stealthy, bat-winged plane that represents a jump forward in drone technology. (Photo by Jason Reed/Reuters)