Mars Curiosity Rover Team Looks Back at [Flower] Looks Ahead to Drilling
---
[The scientists behind NASA's $2.5 billion Curiosity rover mission on Mars on Tuesday explained the nature of a tiny, gleaming "flower" embedded in Red Planet rock, and revealed where they'll be using the SUV-sized robot's drill for the first time.
Both those developments point to the same happy discovery: The place where the rover is working was almost certainly formed through the action of water – and seems likely to provide new insights into the planet's geological history. [This is something that we've waited patiently for], Caltech geologist John Grotzinger, the mission's project scientist, told journalists during a NASA teleconference.
The [Martian flower] made a splash on the Internet, in part because it looked so different from the surrounding rock in a microscopic-scale picture from Curiosity's Mars Hand Lens Imager, or MAHLI. Few people thought it was actually a flower, though it looked a bit like one. Was it a piece of plastic from the rover itself? An unusual type of mineral?
The Planetary Science Institute's R. Aileen Yingst, deputy principal investigator for the MAHLI team, delivered the expert verdict. It's a relatively large mineral grain, or [a pebble, if you wish], measuring about a tenth of an inch (2 millimeters) wide. [It could be a lot of things, but without some chemical information to back me up, I'd really hesitate to say what it is], she said.
She pointed out that a couple of similar, darker-colored grains could be seen embedded nearby. The important thing is what such rounded grains have to say about the scene's history. [They've been knocked around, they've been busted up. They've been rounded by some process], she said. That suggests that running water helped form the rock, which has been nicknamed Gillespie Lake]. – Alan Boyle via
NBCNews.com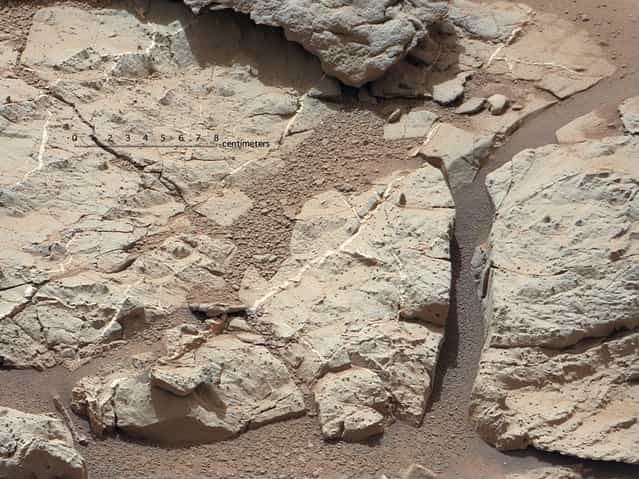 This image of an outcrop at the [Sheepbed] locality, taken by NASA's Curiosity Mars rover with its right MastCam on December 13, show well-defined veins filled with whitish minerals, interpreted as calcium sulfate. These veins form when water circulates through fractures, depositing minerals along the sides of the fracture, to form a vein. This is Curiosity's first close look at minerals that formed within water that percolated within a subsurface environment. (Photo by NASA)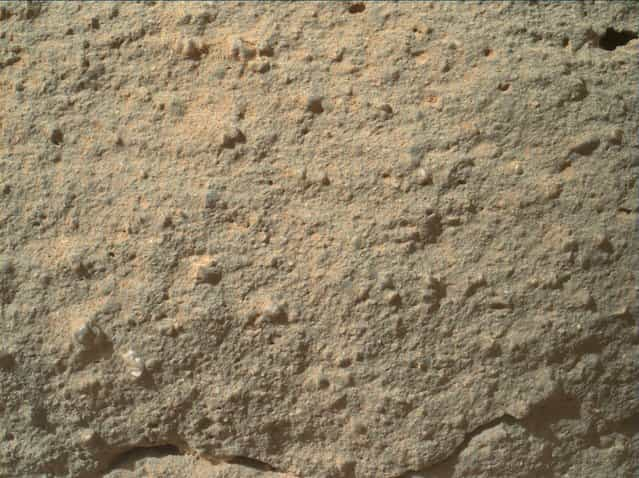 Scientists say that a [Martian flower], seen here in an image from the Curiosity rover's Mars Hand Lens Imager, is a 2-millimeter-wide grain or pebble that's embedded in the surrounding rock. Another, darker-colored mineral grain can be seen above and to the left. (Photo by NASA)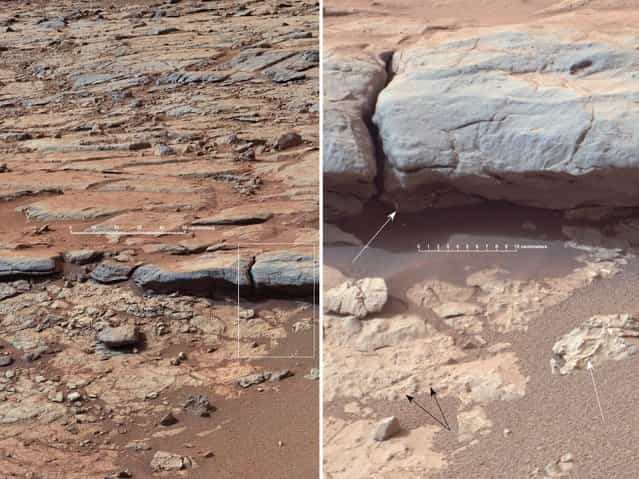 The right Mast Camera (Mastcam) of NASA's Curiosity Mars rover provided this view of the lower stratigraphy at [Yellowknife Bay] inside Gale Crater on Mars. The rectangle superimposed on the left image shows the location of the enlarged portion on the right. In the right image, white arrows point to veins (including some under the overhang), and black arrows point to concretions (small spherical concentrations of minerals). Both veins and concretions strongly suggest precipitation of minerals from water. The scale bar in the left image is 50 centimeters (19.7 inches) long. The scale bar in the right image is 10 centimeters (3.9 inches) long. Mastcam recorded this view in the morning of the 137th Martian day, or sol, of Curiosity's surface operations (December 24, 2012). The image has been white-balanced to show what the rocks would look like if they were on Earth. (Photo by NASA)