Jewellery Made From The World's Largest Diamond
---
[A dazzling exhibition featuring jewelry made with the world's largest diamond will be part of the celebrations marking the 60th anniversary of Queen Elizabeth II's reign. The jewelry was made with a 3,106-carat diamond discovered in 1905 at the Cullinan Diamond Mine near Pretoria, the capital of South Africa. The diamond was so large that miners initially thought it was a worthless crystal and almost threw it away.
[Until January 26, 1905 no one had ever seen a diamond of this size], Caroline de Guitaut, curator of the Royal Collections, told the UK Press Association news agency. [So incredible was its discovery that the moment it was found at the Premier mine it was thrown out of the window of the mine manager's office because it was thought to be a worthless crystal].
The diamond was cut into nine major parts and 96 smaller pieces. Seven of the nine major stones went into making a brooch, a necklace and a pendant, some of which have been worn by the Queen. These jewelry items will be displayed together for the first time to commemorate the Queen's Diamond Jubilee celebration.
The other two principal pieces are already on display as part of the famous Crown Jewels at the Tower of London. The Cullinan I, also known as the Great Star of Africa, is the largest of the nine, and is set in the Sovereign's Sceptre. The second largest, the Cullinan II or the Second Star of Africa, is set in the Imperial State Crown.
The exhibit will also feature Queen Victoria's small diamond crown, made for her in 1870 as a lighter and more comfortable alternative to the much heavier Imperial State Crown]. – Vidya Kauri via
News.nationalpost.com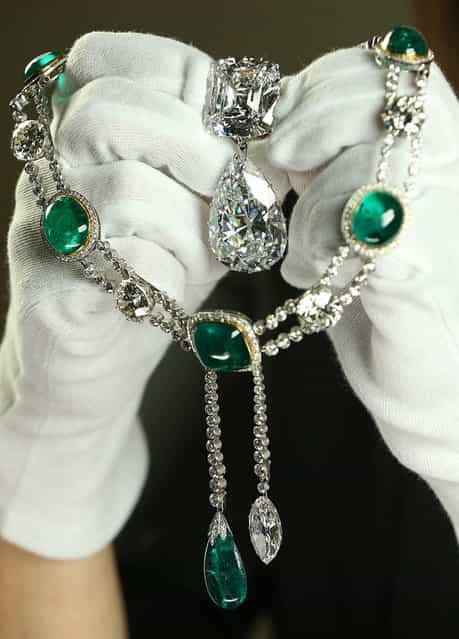 Caroline de Guitaut, Curator of Royal Collections, holds the Cullinan III and IV Broach and the Cullinan VII Delhi Durbar Necklace and Cullinan Pendant at The Queens Gallery, Buckingham Palace on May 15, 2012 in London, England. Jewellery, made from the largest diamond ever found, will be shown to the public at the [Diamonds: A Jubilee Celebration] exhibition which is part of the Summer Opening of Buckingham Palace from June 30th – 8th July 2012 and July 31st – October 7, 2012. Celebrating Queen Elizabeth IIs Diamond Jubilee the exhibition will showcase seven of the 9 stones cut from the Cullinan Diamond – the remaining two from part of the Crown Jewels. (Photo by Peter Macdiarmid)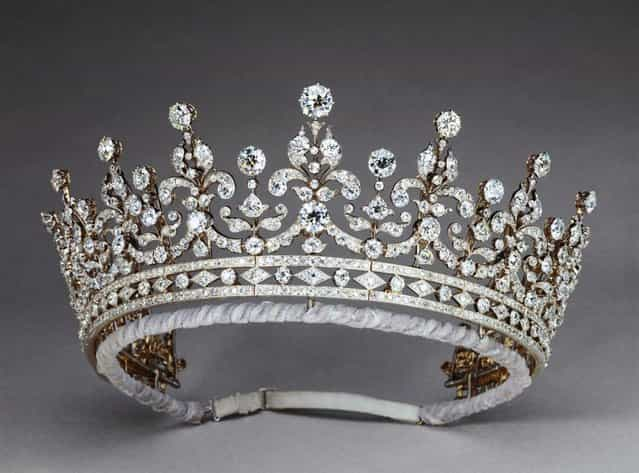 This undated image made available by the Royal Collection shows The Girls of Great Britain Tiara part of a exhibition of royal gems being staged to mark the Queens 60-year reign at the Queens gallery, Buckingham, Palace, London, on Tuesday May 15, 2012. The major display will reunite for the first time seven of the nine principal stones cut from the Cullinan Diamond. (AP Photo/Royal Collection)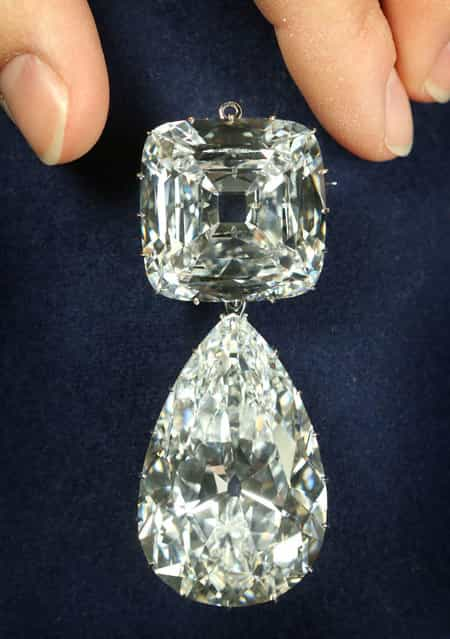 The Cullinan III and IV Broach is displayed at The Queens Gallery, Buckingham Palace on May 15, 2012 in London, England. (Photo by Peter Macdiarmid)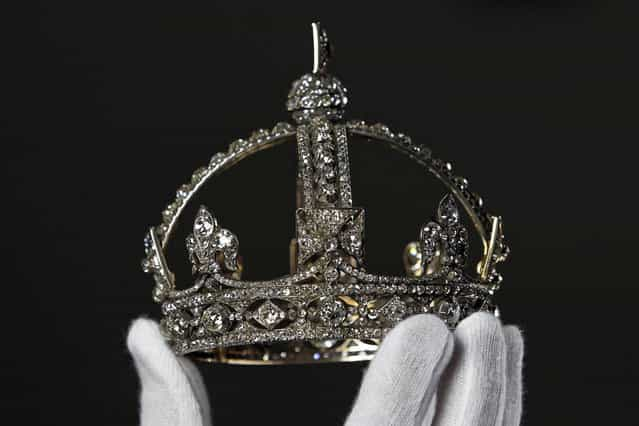 Exhibition curator Caroline de Guitaut poses with Queen Victorias Small Diamond Crown at the Queens Gallery in Buckingham Palace, London May 15, 2012. (Photo by Reuters/Stefan Wermuth)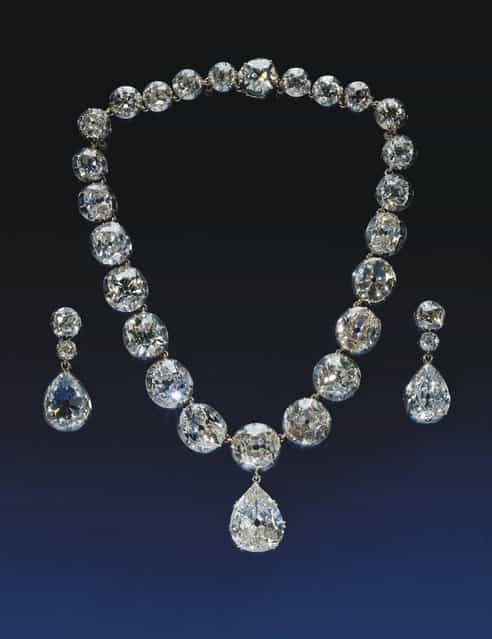 This undated image made available by the Royal Collection shows the Coronation Necklace and Earrings, part of a exhibition of royal gems being staged to mark the Queens 60-year reign at the Queens gallery, Buckingham, Palace, London, on Tuesday May 15, 2012. (AP Photo/Royal Collection)