Carnival Cruise Ship Passengers Tell of Horrible Conditions After Disembarking
---
[The Carnival Triumph finally made port on Thursday night, after what should have been an idyllic four-day cruise turned into a grueling week-long ordeal for more than 3,000 passengers and 1,000 crew. Some kissed the ground as they disembarked the ship, while others swore never to go on another cruise again. Many spoke of the well-documented unsanitary conditions on board the 272-metre Triumph, which lost power in the Gulf of Mexico on Sunday.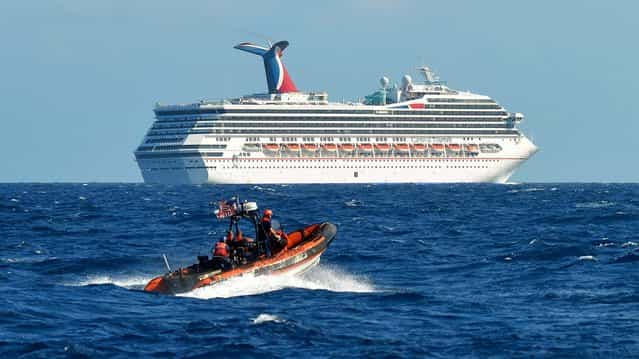 A small boat belonging to the Coast Guard Cutter Vigorous patrols near the cruise ship Carnival Triumph in the Gulf of Mexico on February 11, 2013. The Carnival Triumph has been floating aimlessly about 150 miles off the Yucatan Peninsula since a fire erupted in the aft engine room early Sunday, knocking out the ship's propulsion system. No one was injured and the fire was extinguished. (Photo by Lt. Cmdr. Paul McConnell/U.S. Coast Guard)
[It was horrible, just horrible], said Maria Hernandez, 28. She had been on a [girls' trip] with friends, she told the Associated Press, and had woken to smoke in her lower-level room after the fire broke out in one of the engine rooms. Although swiftly extinguished, the blaze left the ship listing helplessly. [I just can't wait to be home], Hernandez said. She faced a bus journey and flight to get back to Angleton, Texas.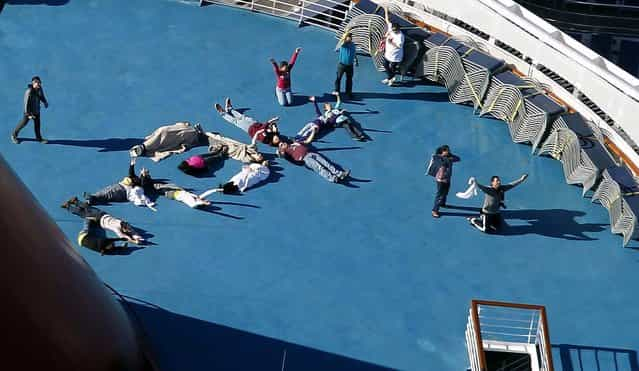 Passengers spell out the word [HELP] aboard the disabled Carnival Lines cruise ship Triumph as it is towed to harbor, February 14, 2013. (Photo by Gerald Herbert/Associated Press)
As the ship was towed into port on Thursday, passengers transmitted details of the grisly conditions on board. Joy Dyer, in texts shared with the Guardian, said [floating waste is all over the place] and described the smell as [rank]. Passengers were forced to conduct bodily functions using showers, sinks and red bags, Dyer said. She was among a number of passengers who had taken to sleeping above deck to escape the stench of the rooms below – where [slick floors are usually human waste overflows].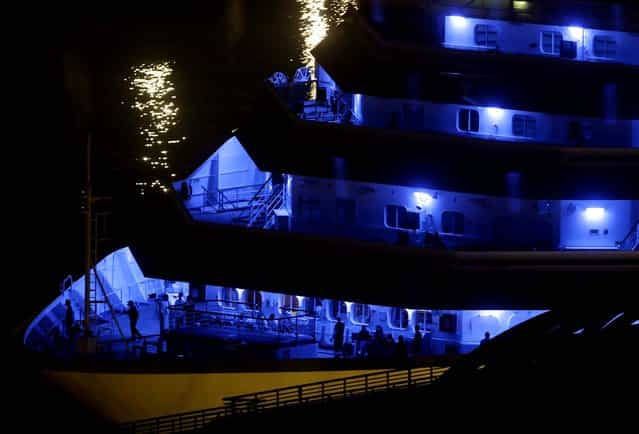 Passengers aboard the Carnival Triumph walk along the deck before leaving the ship in Mobile, February 14, 2013. (Photo by Dave Martin/Associated Press)
Carnival Cruise Lines, which owns the Carnival Triumph, now faces the costly process of paying out compensation to the 3,143 passengers. The company has promised to fully reimburse all travellers, provide a full cruise credit for another Carnival voyage and to give an extra $500 in compensation. Even so, some passengers did not seem keen to take to the seas again.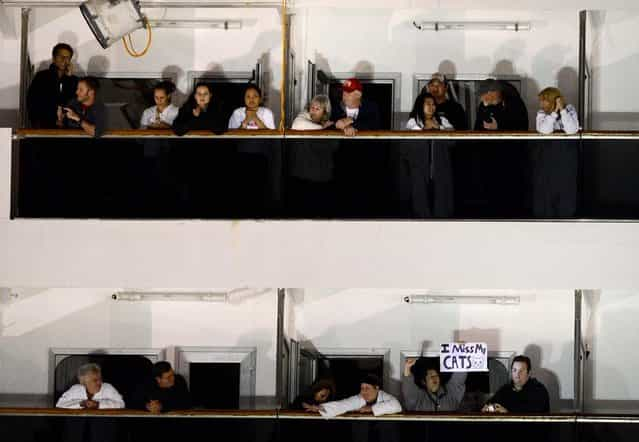 People watch from their balconies aboard the Carnival Triumph after it was towed to the cruise terminal in Mobile, February 14, 2013. (Photo by John David Mercer/Associated Press)
[This is my first and last cruise], Kendall Jenkins told reporters. Deborah Knight, 56, from Houston, said she would not be boarding the buses provided by Carnival. Her husband drove in to collect her instead and the pair had checked into a downtown Mobile hotel. [I want a hot shower and a daggum Whataburger], said Knight, who was wearing a bathrobe over her clothes as her bags were unloaded from her husband's pickup truck. She said she was afraid to eat the food on board and had become sick while on the ship.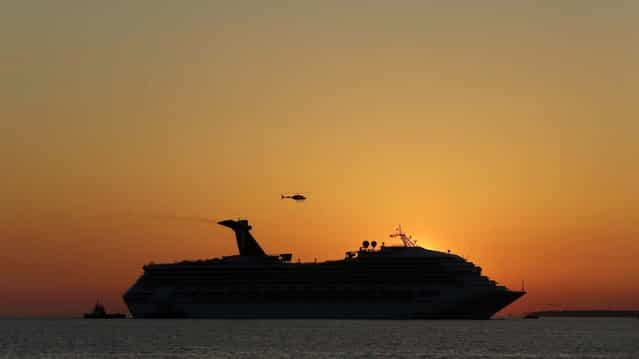 The sun sets as the Carnival Triumph is towed into Mobile Bay near Dauphin Island, February 14, 2013. (Photo by Dave Martin/Associated Press)
One passenger participated in a Reddit 'Ask Me Anything' live chat as the ship neared port, providing proof via photographs that he was onboard but not giving his name.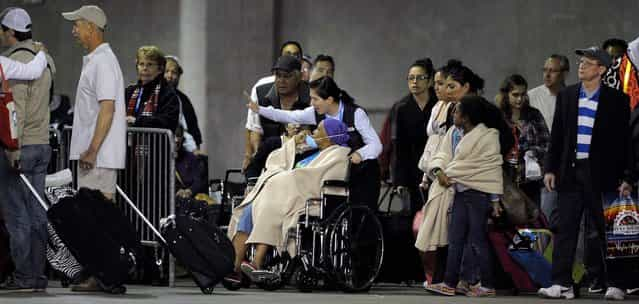 Passengers of the Carnival Triumph walk to their buses after docking at the cruise terminal in Mobile, February 14, 2013. (Photo by G. M. Andrews/Associated Press)
[People are getting sick because sewage [everywhere]; urine on the floors, waste in bags, and undercooked food. Strong fecal and urine stench near the cabins and just a poor environment. The workers rushed a lot of the processes. My mom is actually sick], the passenger wrote on Reddit. He said he would go on a cruise again, describing the trip as: [Just like camping. Except crowded and unhygienic]. – Tom Dart and Adam Gabbatt via Guardian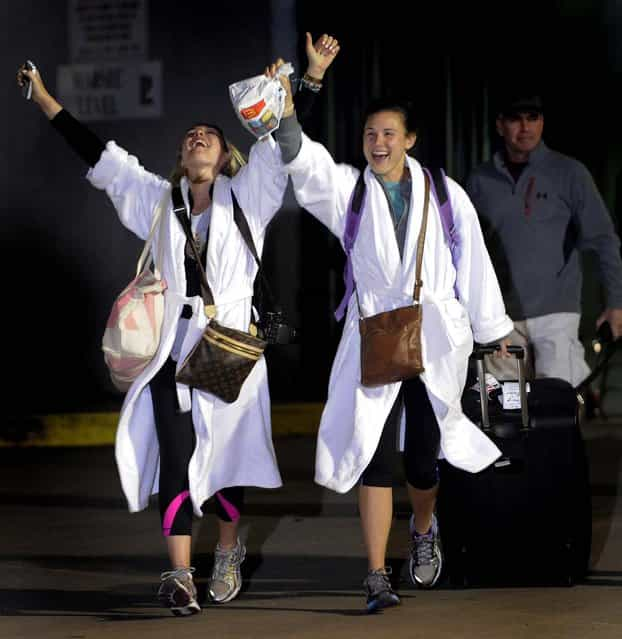 Kendall Jenkins, left, celebrates with a friend after getting off the Carnival Triumph in Mobile, Alabama, February 14, 2013. The ship with more than 4,200 passengers and crew members has been idled for nearly a week in the Gulf of Mexico following an engine room fire. (Photo by John David Mercer/Associated Press)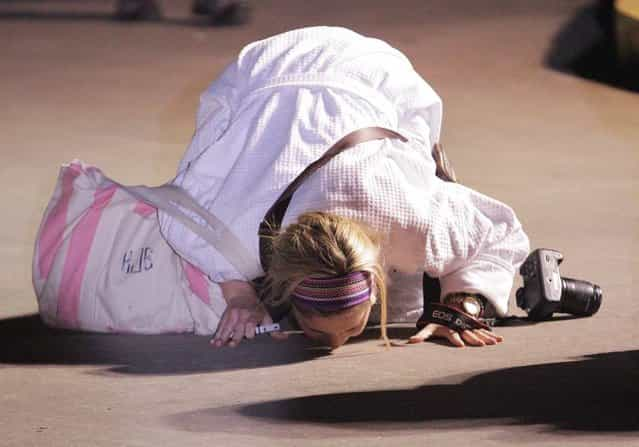 Kendall Jenkins of Houston kisses the ground after stepping off the Carnival ship Triumph (Photo by AP Photo)
[related-news] [/related-news]